Time to be a Light
August 9, 2012
I never do this kind of thing, but I guess there is a first for everything.


"Life's up and downs

Provide windows of

Opportunity to determine

Your values and goals.

Think of using all obstacles.....

To build the life you want."

This quote was on the back of an envelope that contained a letter written by a 17 year old girl who currently resides in a juvenile center in Spokane, WA. Somehow she had found a bookmark, a few years back, that is the business card for a boutique in Boone, NC. Found in Washington. For those who know America, that's pretty freaking far. I mean, a little boutique in Boone, North Carolina?? That business card reached Washington?! Wow.

Here is, word for word , the letter this girl wrote to the owner of the boutique.

Dear Sheri ------,
July 30th, 2012


Well I know you don't know me but my name is Katrena ------.....rite now I'm in juvenile and going through some really hard times. I found your book mark about a year maybe two ago when I was walking with my mom at the time I was in Detox on 312 W. 8th Ave. I gave it to my mom and personally don't remember it after all I've been through the past two years. But my mom came to visit me and brought it and a book for me. As she told me the story she cryed after I told her I can't remember when I'm only 17 years old and she can. Anywayz, the reason I'm writing you this letter is because my mom is a mother to 5 children. I have 4 older brothers. She's still married to my dad after 25 years and in all these years my dad has never really given my mom anything special. Neither have any of us kids besides a headache. My older brother just got sentenced to ten years in federal prison and I'm getting sent up for who knows how long to a JRA (Juvenile Prison). My mom has devoted her whole life us kids and my dad and never once turned to drugs to help her. Unfortunutly we all have....including my dad even though he works hard everyday to keep a roof over our head. I just want my mom to smile again even if it's just for a second. I know you don't know me or my family but it would mean alot if you could bring my mom a little something to cheer up her day like some pretty flowers.

If you decide you can.

Debra -----

P.O. Box ----

Spokane, WA



Sincerly,

Katerna ------


(the anal writer side of me says to make a note saying, I spelled things the way she did in her letter to keep it authentic)

Basically, I have no idea what I'm doing. The letter has just begun to be passed around and I happened to read it tonight. It made me sad and also sparked something. This girl, as well as her family, have obviously been been through hell's gates and back. And right now, all she wants, is for her mom to smile. Even across the distance and knowing so very little about the family, I marvel at the mom.

She reminds me of my own mom. Still married to her first husband, sticking out through freaking thick and thin, and one of the strongest people I know. Pretty much, she's just Super Woman. (that's right, be jealous of my fabulous mom) Seriously though.

This girl's mom sounds amazing! How silently strong she must be.... I just wish I could hug her tight and make her laugh. To tell her that even though I don't know her, how proud I am of her; in a time when so few stay strong, she keeps going.

Maybe that's what I'm doing.....I want others to read this and understand. I want other people to reach out. Except I don't want this to be one of those dime a dozen requests or pleas to any kind of religion.. Trust me, those irritate me immensely. Not to mention they are so common now, people just read them and keep sitting on their ass. Unable or unwilling to do anything. It's pathetic.

So while I still don't know what I'm doing, I DO know I am going to write both the girl and her mom. Maybe I'll be able to do something more, shed a bit more light than just a letter. Whatever happens, I'm going to try. Somehow I'll sit myself down, tell life to zip it for a bit, stop worrying about myself, and reach out to someone else. I refuse to be the majority of humanity who tell people "No" without a second thought. I'm tired of never trying to change things.

"Even a match can shed light in utter darkness."

It's time to shed some light.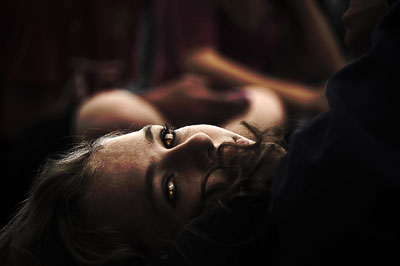 © Calvin C., Salt Lake City, UT