The Six Month Battle with Cancer
July 12, 2012
Have you ever lost someone close to you? If you have, I am sure that you had a lot of emotions running through your head. I know I did. I lost my mom to brain cancer in 2005. I never thought that I would lose her. She was a very bright and caring person. I always wanted her to be with me throughout my life, but now she can't, only in spirit. It all started around March of 2005. I was eight, about to turn nine in May. She started to get symptoms that she knew wasn't right. Her right hand got numb and the numbness started to spread. She also started to lose some of her memory.

Then one day, she just felt like she needed to go and have it checked out. She was at work and an ambulance came to pick her up and took her to Pomona Valley Hospital. When I found out that my mom had to stay and get some tests done, I just started crying. I told her that I didn't want to leave and wanted to stay with her. She just told me that everything would be fine. My mom stayed in the hospital for a few days. Then she was discharged, being diagnosed with having a stroke. Then a friend took me over to my grandparents' house.
My mother came home feeling much better for a few weeks. Then she started to feel bad again. She called her doctor and her doctor said to come in and have a checkup. Then she was put into Methodist Hospital for a short time. This is when she was diagnosed with a malignant brain tumor. We were all very nervous about what would happen. She started to go to physical therapy and chemotherapy. My mom was getting a little bit better day by day. She did lose her hair from treatment and started wearing hats, but I knew that she was still my mom and that didn't change who she was on the inside.

My mother was able to come home when she wasn't in treatment, so we could still be with each other. She was even well enough to go to Shogun with my aunt and me to celebrate my ninth birthday. A few weeks later, we had to put my mom in a nursing home for awhile. I remember walking into the room where my mom was put into and thinking to myself, 'This can't be my mom!' She was so helpless and pale. Before this, I always saw her as a cheerful and happy person, even if she wasn't in a good mood. She would talk her problems out, but now she couldn't do that. But deep down, I knew it was her. When my mom left the nursing home, she was still very ill, and we had a home nurse come in and take care of her. She had a hospital bed that she slept in that was in a corner in our family room.

She was confined in that bed. My mom could barely walk, talk, or eat. My aunt had to start feeding her baby food. I started fourh grade. Since my aunt was home taking care of my mom, my third grade teacher was nice enough to provide transportation for me.

The day my mother died was a big shock for me. It was near the end of August. I left to go to school and went on with my day as usual. When I came home, I found my aunt and one of my cousins sitting on the living room couch waiting for me to come home. After my teacher left, my aunt broke the news and told me that my mom had died. I was in too much shock to say anything. I didn't even run out of the room to see if she was really gone. I just started crying right there and then. My cousin told me that things would be okay, but I couldn't believe that at the moment. Then all three of us started crying. My aunt said that she passed away shortly after I left that morning. I told my aunt that I didn't even get to say 'goodbye'. My aunt told me I did and that I gave her a kiss before I left.

My mom's funeral was very nice. It was held at All Saints Church in Pasadena California. I remember standing in one of the first few pews next to my best friend, Anna. Her mom played the piano for the service. When I heard the song, "Amazing Grace" starting to be played, I knew that my aunt was going to be the singer for it. I looked over to where she was and saw her crying instead. As my mom's casket was being carried down the walkway, I was crying and turned. I made a little 'bye' hand gesture and whispered, "Bye – bye, Mommy."

Losing a loved one can be hard for people no matter what the age is. Even though we can't see and feel them physically, they are always with us in spirit and looking over us every moment. I still have the memories of my mom, but reliving them with her isn't an option. You can't go back and start over again. Doing things that you enjoyed doing with your loved one, whether it is an everyday thing or saved for a special occasion, can make it feel like they are there with you. When I am with my godmother eating my mom's favorite dish from El Pollo Loco, I can feel my mom's presence. When I need time alone or out in nature with a relaxing and serene area, I think about her and picture her being there with me. So, even if things aren't the way you thought it would be, just know that our loved ones want us to be happy and keep on pushing through. My mom and your loved one are still living through us and those who know them. They will always be remembered and honored in special ways.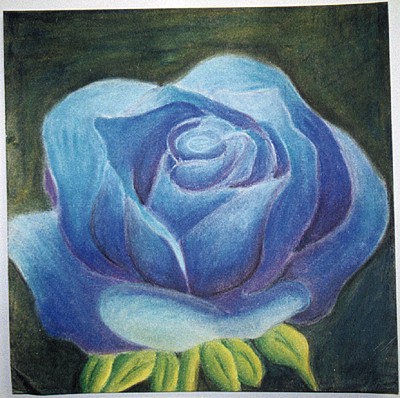 © Photo by Jessica R., Phoenix, AZ