Growing Up
May 22, 2012
In elementary school, we didn't care how we looked. We would wear the same socks as the day before, leave our hair uncombed, no one would care. But now I'm in a completely different world. As my dad pulled up onto the driveway of my new school, I looked out the window. There were girls amongst the stairway with two inch heels and faces generously lathered with makeup. 
"Like my mascara? It was on sale for fourteen bucks," said one of the girls.
Fourteen dollars? I could hardly afford the knockoff makeup they sell in dollar stores. 

I stood alone on the courtyard of my school feeling completely left out. Everyone changed. All of my friends dressed completely different and wore earrings the size of light bulbs. I didn't even own a pair of heels. I never thought that I would need them. As I continued my march, I looked down at my own outfit. I wore oversized sneakers that I've had for over two years and stained baggy around the butt jeans that I purchased at the thrift store. When I got ready this morning, I thought I looked good. These were the types of clothes I wore back in elementary school, why did it look completely wrong? It seemed like everyone received a complete guide on how to dress in high school except for me. Everywhere I walked, I heard snickers and giggles come from behind me. 
That afternoon, I begged my mom to buy me new clothes.

The next day was completely different. I came walking into school with pink high heels, tripping every few centimeters. I wore the shortest mini skirt I could find and a paper thin tank top. 
Throughout the course of the day, I was freezing and a piercing pain came from the balls of my feet. The makeup I lathered my face with smeared all over my eyes and my lipstick dripped down to my chin, making me look like a clown. I couldn't take it anymore, I looked prettier, but I didn't feel that way at all. Wiping the thick globs of makeup off of my face, I could see me. 
I mean, the real me, beautiful with or without makeup and heels.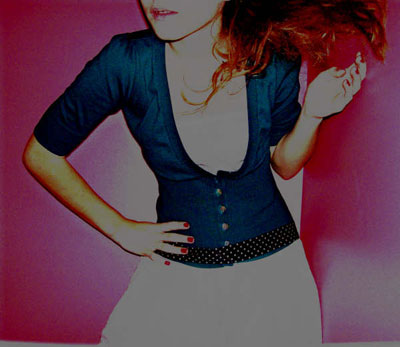 © Jenna V., Hamilton, ON, Canada