My Best Mistake
February 13, 2012
I learned the hard way when it came to riding a bike without any training wheels. It was my choice, and it was the best mistake I had ever made. During this one moment in my life, I learned one of the most important life lessons that everybody should know. I learned that you can do anything through your own power of will.
When I was five I was just starting to learn how to ride a bike with training wheels, but at the same time my sister was learning how to ride her bike without training wheels. Mom and dad were paying special attention to her because they didn't want her to fall and get hurt. She had a habit of breaking bones easily, and of course being the younger child I wanted them to pay more attention to me. I wanted to be able to do what my big sister got to do. So I told them that I could ride my bike without any training wheels or any help. "Oh really?" my mom replied and I confirmed with a simple nod. My dad then took the training wheels off my bike and let me go. I wobbled at first, but after a little while I found my balance and rode pretty smoothly until I hit a rock and landed directly on my funny bone. But after the tingling went away and I could feel my arm again, I went on riding my bike without the training wheels and proved to my family that I could do it.
Technically, I skipped the training wheels and went straight to just riding a bike. Through that experience I learned that I could do anything I set my mind to. I also learned that I didn't need anybodys help; I can do anything through my own power of will.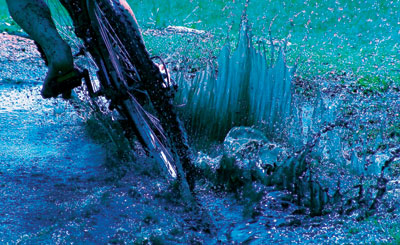 © Reuel M., Austin, TX