I Don't Know Why
December 18, 2011
I don't know why I love you, I really and truly don't. I've never liked a smoker before. Usually it bothers me-- I mean, smoking is bad, that's what you get taught in school... and kissing a smoker is like kissing an ashtray.

But I love you anyway.

I don't know why I look for you everyday at school. When the bell rings, I'll stand in the middle of the hall, let my peers flood around me. Let them try to pull me into the stream. Let them drown me in their babble, I don't care. I just want to see you. That's all. One glance is enough to make my year. It's pathetic, I know.

But I still care.

I don't know why I think I see anything in you. I don't even know you. You're just some guy I saw one time hanging around the parking lot after school. You could be some selfish, egotistic jerk... or you could be the tortured-artist type-- the sweetest guy in the world. I could imagine you near-perfect, your only flaw that you smoke. I'm probably just kidding myself.

But I want to believe that you exist soly to be with me.

I don't know why I cared enough to write this, because I know you're one of those loves that will fade. After all, I never even said hello. How could we fall in love if we haven't even met yet? Silly me. I guess I get a little too caught-up in my daydreams.

So why do I still wish you would notice me?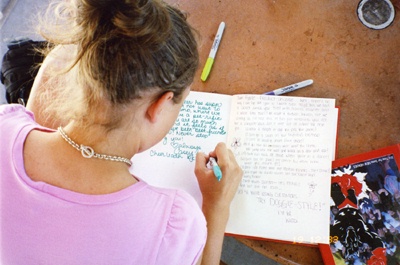 © Jessica S., Pheonix, AZ