Him, Her & Me
December 27, 2011
I watch you, stare, as you play with your daughters. They run around you, Laughing and playing. Their smile is like yours, full of love and compassion. You laugh with them, and its like they feel how much you love them because they both turn and kiss you on the cheek. They seem so excited to be with you, like if they hadn't seen you in days. The little one wants to be in your arms the whole time. She enjoys your company and the love you to give her.
I see someone walk in, i realize that its her. She walks in the room and for one second I wish that I was her. For one second, i want to live her life, be a mother and a wife. For just one second i envy all that she has. It seems wrong to think of it like this but its how i feel. You see her and your smile fades, you wonder what shes there for.
I look at you from a distance, you look hurt... broken. You turn to look my way and my smile fades as well, i know what shes there for and so do you. I look at you holding their little hands in yours, you hold them firmly and stubbornly and don't let go.
She pulls them away, they hug her but they don't want to go, she grabs their hands and carries them away. They look back at you, and for a minute i can feel your pain. My heart breaks, and my eyes begin to water. You speak out, but she ignores you. You grab her arm and she turns around.
I stop breathing for a moment, I'm wondering what you are about to say. I can see it in your eyes, that you are willing to do anything for them. My heart beats faster by the second and i suddenly feel nervous.
She lets the girls go, and they both disappear inside the house.
I keep watching, as you and her argue, as you whisper to her. You don't want the girls to hear, you don't want them to worry. I cant make out what you are telling her, she shakes her head several times and i can tell that you are loosing your patience. She knows it to, she keeps bugging you, she does it on purpose.
She looks at me, she knows i watching. It upsets her even more to know that i am there. to know that i am waiting. I wonder to myself how she can have this perfect life and still be unhappy. The anticipation is killing me.
Finally she turns and walks toward the house, but not before she turns and shoots me a smile. A smile so full of hatred, and so full of revenge. You turn to me and start walking my way, i smile. Your looking down the whole time and i wonder if the decision you made was wrong.
Memories flash through my mind, the first time we met, and the first time we kissed. I want to relive that, i want to be with you. You stand next to me and i smile, i hold your hand but you shake me away. My smile is gone, concern fills my face. I look into your eyes and i see the pain. My eyes water, I'm getting ready for whatever it is you are about to tell me. You touch my face, i feel your cold fingers around my cheek. you open your mouth to speak...
"I'm staying with her" you say.
My heart drops and shatters, my smile is now completely gone. It has been replaced, replaced by a frown. I'm waiting for the moment when you laugh and say that you were joking but it never comes. With those four words my world crashes down on me. I understand her smile, i understand her face expression. I don't know what to say, my thoughts are stuck inside my head and i cant speak.
"I don't want to loose my little girls, i am willing to stay with her in order to stay with them" you speak again.
I look at you with warm tears running down my face. you don't want to look back at me, so you turn around. You start walking away. I break down and i wish that everything was better. I wish that maybe she was gone, out of our lives. I wish that the baby girls were all yours and that i could give them all the love that she gave them. i wish for a long forever with you, but i see nothing change.
I do not stop crying, but i accept that you are gone. I sit here with a broken heart and a broken dream. I sit here with a thought that i will never be your wife, nor your children's mother. I accept it, i move on.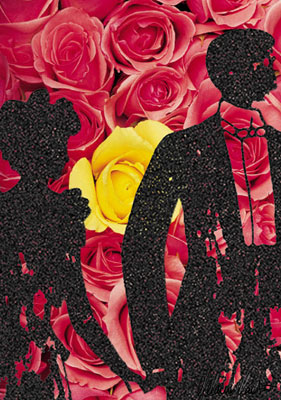 © Melanie M., Hendersonville, TN