I Believe In Experience
December 25, 2011
It was after lunch one day and I decided to spend the last twenty minutes of the period in the computer lab. I was not the only one there, but I, personally, was by myself. Without having anyone to talk to, my mind drifted over to the other conversations around me. Throughout the computer lab some people were talking about their lives and the difficulties they had to go through. Except for "difficulties" they were not. One girl I specifically remember saying the most difficult thing she ever had to do in her life was go through the self checkout in Acme. Another girl laughed and said that she agreed and her life was so difficult because she needed to buy a dress and couldn't find one after many hours of shopping. I was horribly shocked by this conversation because these girls were dead serious. As I continued to listen my eyes began to water and I had to do everything not to cry. Here I was worrying about my grandmother being diagnosed with cancer, my mother's relationship with my stepdad, the path my sister was going down, the guilt of leaving my father, the stress of schoolwork, and how, after everything I was feeling, was I going to fake it and pretend everything was okay. Yet these girls, with complete honesty, said that the hardest thing for them was something I do without thinking.

I believe in experience because I believe that you aren't truly mature and don't fully know yourself until you are up against the world. I believe that you don't know good until you have faced that bad, you don't know happiness until you have encountered sadness, and you don't know strength unless you have been weak.

Yes, the things I had to go through were difficult but I have become a stronger person and I would never change a single thing about my past. I know where I stand morally, I know my limits, and I know my values. I know the problems that will present themselves in my future, I will be able to handle. I know that I will not sweat the small stuff because things like not being able to find a dress or self checkouts at Acme are the things thrown at you to make life interesting. I count myself lucky that I still attend a good school, that I have the ability to shop for a dress, and that I can go to a grocery store and buy food. But what brought me to this realization are my experiences of something different. I experienced the bad so I can realize the good, I have known sadness to recognize happiness, and I have been weak to know how to be strong. My experiences have gotten me to a point where I can appreciate many different sides of life and to appreciate what I have. God does not deal you a hand you cannot play. He does not make you carry a cross or experience something that is beyond your limits. The cross on your shoulder is heavy, but carrying it long distances makes you strong and able. It gives you the ability to look at something and say, "I can do this." It gives you the ability to appreciate everything you have, and to make every moment a miracle. This, I believe.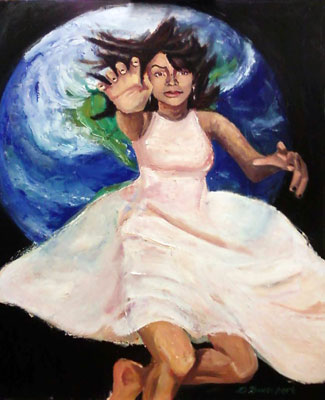 © Dominique D., Ozone Park, NY