Just a THOUGHT ...... could be yours too!!!
September 1, 2011
Sometimes when i am not alone and unoccupied, it is my mind which is occupied by many ' OUT OF THIS WORLD' and 'WIERD ' thoughts ... Some of them do make sense and involve a great deal of THINKING and CONCENTRATION , but most of them are figments of my IMAGINATION, often WILD, BIZARRE and extremely STRANGE. like for instance , yesterday only i was in a rather philosophical mood ( happens to me a lot and i should even tell you that i experience severe mood swings )when suddenly my imagination unlocked that part of my brain in which several such INSANE, FUNNY, FOOLISH and WIERD THOUGHTS resided. The first one of those thoughts to jump out of that box in my mind was one of ' SELF ANALYSIS '.It was more of a question equivalent to many such minor questions rather than a thought, but it did make me THINK .... and not only that , it made me THINK HARD ..!!!!

The million dollar question was , " WHO IS ILLUMINATUS ?" It was not the first time that i was confronted by this question but the significance of the type of answer i come up with was what made this question so SPECIAL ! As i have already said that it was a collection of several questions compiled into one , so a part of this question was ," WHAT SORT OF A PERSON AM I ?" As far as i could come up with , my answer was that "I SURELY WAS A SANE PERSON WITH INSANE THOUGHTS JUST LIKE THE OTHER SIX BILLION PEOPLE LIVING ON THIS PLANET, BUT STILL DIFFERENT THAN THEM IN SOME WAY." HOW ? I don't know.... maybe the people around me can tell , the very same with whom i have come in contact with .

Another part of the question was, " WHAT EFFECT DO I HAVE ON PEOPLE AROUND ME ? i.e, FRIENDS, TEACHERS, RELATIVES, COLLEAGUES AND STRANGERS ." Well people do seem to act CASUAL and NORMAL around me . I do have a fair number of FRIENDS , but are they my REAL FRIENDS or not is another topic . I dont know what goes on in the 'JUNGLE OF NEURAL NETWORKS' of people around me but on the outside i do seem to impress them by some way , both knowingly or unknowingly ! This question has still another face to itself . "WHAT IF ONE FINE MORNING PEOPLE GET UP , GO THROUGH THIER MORNING ROUTINES TO FIND THAT I HAVE SUDDENLY DISAPPEARED FROM THEIR LIVES NEVER TO RETURN AGAIN , HOW WOULD THEY BE AFFECTED BY IT ?" Well i cant seem to come upto any sort of answer to this question. Maybe it is for THEM TO KNOW AND ME TO GUESS ...AND THEN KEEP GUESSING !!!

Many times have i PONDERED over these thoughts and asked for true opinions from my friends to this thought in particular, but but never seem to have got a genuine and true opinion . But again ......." IT'S JUST A THOUGHT !!"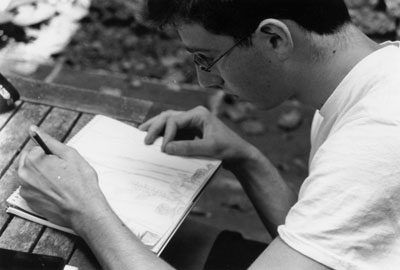 © Kira L., Bethesda, MD