A Sandy Memory
July 14, 2011
I remember it as one of the most beautiful, natural moments I have ever experienced.
I remember looking out on the waves of the darkened ocean crashing on the unblemished shoreline with an unspeakable intensity. The water appears an inky black. I thought to myself at some point in the time I remained on the shore: this is the perfect place to come to cry if you want to be alone.

I know one day you will long for the liberty to venture out to the beach at night to let all of your emotions loose because the ocean will understand; it will heal. It will listen when no one else does with the fiery whisper of the frothy white waves washing up on the sand you dig your feet into; soaking up your tears within its own salty waters.

The sea creatures will rustle around in their sandy, grainy beds beneath the water to listen to the tale of your woes. You will slowly begin to regain your calm as you watch the endless waves roll out so far away you can no longer track them down in the dead silence of the night.
One glorious day, you will realize the ocean is just another one of the undiscovered, beautiful mysteries of the world people are yet to be within reach of. It brushes the tips of their calloused hands— so tantalizing that they are hungry to taste its secrets.
This is true bliss.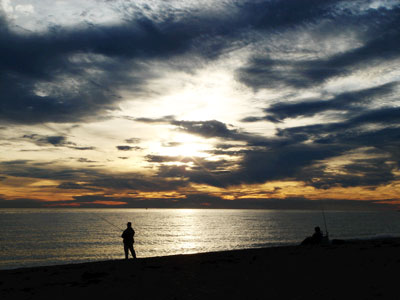 © Sarah C., Hillsdale, NJ