The (Not So) Round Trip
June 2, 2011
It seemed perfect. Almost too perfect. But when I purchased four tickets for a minimal price to the highly publicized Jay-Z and Eminem concert at Yankee Stadium off of Craigslist, too good to be true didn't exist.
Corey, Jesse, Max, and I cruised into the Hicksville train station, overflowing with anticipation. Tonight would be the best night of our lives, we thought. With the excitement building, our arrival at Penn Station seemed to take centuries, and the subway ride to Yankee Stadium even longer. As the subway coasted through the heart of New York City, none of us could wait any longer to not only see the always masterful Jay-Z, but the even more hyped performance of Eminem, his first since exiting rehab. As the four of us stepped out of New York's underground borough and up into the cool summer night, the Bronx's trademark stood before our eyes. Yankee Stadium would be rocking tonight, and my friends and I would be enjoying every second of it.
Then, all hell broke loose. I didn't think much of it when I gave the man at the gate my ticket, until his scanner read "INVALID" in red letters, and the device began to make a harsh, continuous, beeping noise. The same occurred to each one of my fellow concertgoers, and, each time, the man confiscated what we thought was our entry to what turned out to be an over five-hour party, packed with surprise musical guests.
How could one be so sinful? There we stood, helpless, in the middle of this evil city. The ensuing walk back into the urban underworld was silent. The subway bumped through the guts of Manhattan, a word still yet to be spoken. The ride into the Bronx now seemed like seconds compared to this miserable commute back into Penn Station, and the trudge back into Long Island brought my misery to another level.
As I lay in bed that night, I began to slowly piece together everything that this fraudulent criminal had done wrong. These "tickets" were priced far below face value. Lenny, or so he claimed his name was, seemed reluctant to sell to an innocent, thrill seeking, sixteen-year-old. When the two of us met to exchange, he made sure I did not see his car, and therefore license plates. He did not count the cash that I handed him. The false tickets even began to deteriorate long before they made it to the stadium. My excitement for the night literally blocked out any possibility that these tickets could be counterfeit. I began to realize that all souls, my own in this case, are born trusting with the best intentions, and are only destructed by the immoral actions of mankind.
I lost so much from this awful trip - money, time, and worst of all, the chance to experience an awesome concert. But, more importantly, I gained so much. I realized that I must, unfortunately, question the motives and intentions and everybody. Better yet, I realized that it takes mistakes like this one in order to learn. Sometimes, learning the hard way is the only option.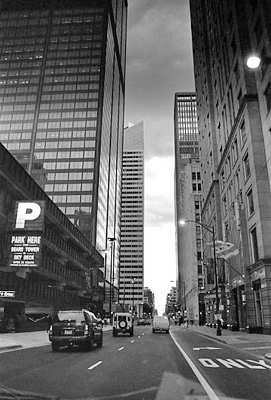 © Alexandra K., Chicago, IL