According to my Parents, I'm a Princess
March 4, 2011
"I'll love your forever, I'll love you always, as long as I'm living my baby you'll be. "When I first read I'll Love You Forever, by Robert Munsch, the repeating quote made me think how much my parents really love me.

When a parent holds there child for the first time, they can't imagine anything going wrong. My precious angel. So small, so cute, so sweet, are their thoughts until that "angel" turns two. Like the boy in the book, I was a handful for my parents. I would entertain myself by ruining the house and breaking things, but like the boy my parents would still love me after all the mayhem I would cause. Munsch uses the repeating quote to show the true bond between a parent and their child.

As the boy and I both got older, our parents would try containing our bumbling energy by sending us outside. As all the energy was expended through play, we would be covered in dirt and grime. As I walked in my kitchen, I would take my shoes off so I wouldn't track mud inside. But when the boy walked into the kitchen, his grimy shoes would liter the floor with mud, bugs and dirt. His mother would always be the one to clean up after him. Even after all the house cleaning, our parents would still tuck in both children in to bed and kiss them goodnight. Even though they had to clean up after messy children all the time, they would still love us.

When the two of us develop into teenagers, our parents try to keep us there baby by not letting us do anything. This is an important time because it will teach us that just because they won't let us drive, have a boyfriend, or go out without telling them, doesn't mean they hate us. This just shows how much they care about our safety. Even if we hate them for not letting us do what we want, they still love.

No matter how many times we say "It's not fair, "Why not, everybody else does, "or "Gosh, I hate you!" Our parents will always say "No, because . . . "and then come up with some lame excuse. But that's just because they don't want us the get hurt.

But in the end when the boy became an adult his mother would across town just to rock him, to sleep. Even thought he boy is a man, his mother stills thinks of him as her baby. Just like the boy/man, my parents will still think of me as their little baby girl. And as I get older they will still think of me as no more then their little girl.

When I first read this book, I immediately ran downstairs to tell my parents I loved. I did this because I didn't realize how much my parents really care about me. Although this book is short, it truly expresses the true feelings of a parent towards their child. It explains how much our parents would put up with. And at the end of the day, our parents would put their troubled thoughts behind them and give us all their love.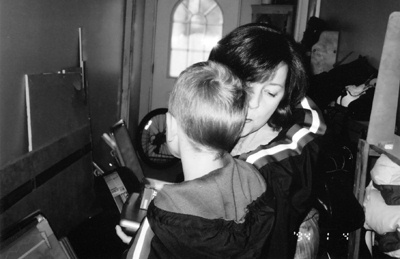 © Lindsey S. Pequannock, NJ