The Lake
July 20, 2010
The moment I wake up, the beautiful, blue water of Apache Lake comes into view. Cranes are sitting on rocks, eagles are soaring above, and vultures are circling their prey. The towering mountains and cliffs, and mysterious caves, look majestic in the sunlight. As my Dad cooks breakfast, smoke raises from the grill and the food sizzling in the pan makes my stomach growl. I sit up and hear the rustle of my sleeping bag and someone still snoring. My flip-flops feel rubbery as I put them on and the gravel crunches as I jump off the back of the boat.
"Morning," I say to my Dad as I eat the mouth-watering hash brown, eggs, and toast, and down it with a cool drink of orange juice. I run down to the water with my brother and feel the cool, smooth water and the squishy mud between my toes. The engine of a speed boat racing by sounds loud and powerful compared to the splash of a little kid jumping into the lake. The long, floating boat dock and the slippery, concrete boat ramp are just to the left, where a big pontoon boat and a small jet ski are already being loading into the water. The stinky odor of a catfish creeps into my nose and I hike back to camp.
A rush of adrenaline surges through me as I realize everyone is getting in our red, Glastron boat. It's time for the first boat ride. The whistle of the air pump is loud and piercing as it airs up the bright red inner tube. I climb into the boat, take my shoes off, and sit down on the scorching seat that's been sitting in the sun all morning. My Mom gets out the sunscreen and I can already feel its cool, lotion-like touch, and smell its certain scent. The diesel engine of our brown truck starts and the wind is cool on my face as we head towards the boat ramp. Then the boat is finally in the water. The waves rock us back and forth as the boat roars to life and we head away from shore. I look at my brother and realize we both have the same ecstatic smile; which means we can only be at that one place: the lake.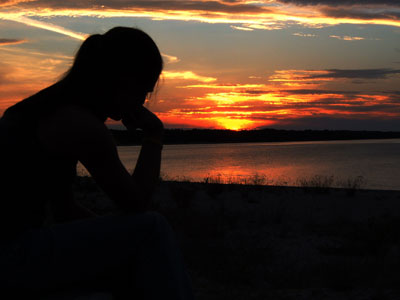 © Hilary L., Rogers City, MI