Taking Up the Spear
February 27, 2010
Earlier this year, I encountered a life decision. This decision was one that many strong, Christian believers encounter at least once in their lifetimes: the decision of testifying. One morning I was sitting on my bed, staring at my traveling Bible, with only thirty minutes left before heading off to school. The problem, which my Bible evoked, began to echo throughout my mind: should I bring my Bible to school to testify my faith? Or should I not?

Sure, people would say that you do not have to carry around a Bible to testify one's faith but, to me, the Bible was like a spear. Whenever people saw the Bible in one's hands, they would either overrun with anger to confront that person or they would smile with the joy of knowing that they are not alone in the faith. Like a war spear, the Bible pierced the enemies and signaled the allies.

But, was I willing to be the soldier who held the spear? Was I willing to confront my enemies and to share the biblical truths? Was I willing to battle and enter the religious war? I slowly reached for the Bible to give my answer of "yes" as the consequence of confrontation did not bother me. However, my hand hesitated as another consequence popped into my head. Was I willing to lose my friends? Was I willing to be alone, to be separated, and to be disliked by most of the world?

I love God and I always want to please Him. However, the thought of being alone triggered my doubts on answering "yes" to my problem. If I did take my Bible to school, many people (who liked me before) might turn away from me because they might dislike or disagree with my faith. In addition, Christianity was not "in" for teenagers and so people probably would not talk to me because they wanted to come across as "cool".




My hand began to pull away from my Bible but, once again, my hand hesitated. Was this a test? Was this my first step towards servant-hood? Would saying "no" really be the good and right thing? Even in my heart, I could feel the guilt that would come if I said "no", but I also could feel the sorrow that would come if I said "yes". The decision was so hard that I felt my insides rage like opposing, barbarian armies.

Eventually, I came to a decision. Even though I had the possibility of losing friends, I also had the possibilities of gaining new friends who were strong believers and bringing nonbelievers to faith, plus impacting someone's life and saving someone from a dark time. Surely, saving someone was better than curing my lonely heart and that was the sacrifice I was willing to make.

As I picked up my Bible, I began to feel a new power surge inside me. My confidence began to build, my joy began to build, my strength began to build, and even my compassion for others began to build. I was ready to be the soldier within myself. I was ready to be a soldier for my Father. With my "spear" in hand, I began my servant-hood with my future reward being the greatest Congressional Medal of Honor that could be given: eternal life, with Jesus Christ, in heaven.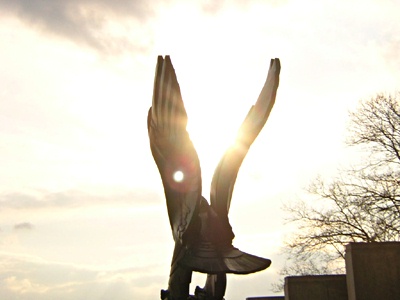 © Brittan S., Claremont, CA