First Ghost Encounter
January 20, 2010
Since I was eight years old I've learned to never take things that are near the cemetery such as sticks, flowers, and many other things.

It all started when my friend and I were playing outside. It was late at night. We decided to go near the cemetery for some reason. My friend told me that there's something scary there…so I just followed. We walked through trees and saw a fake skeleton, but the weird thing was that my friend was talking about one just a second before.

While my friend and I started walking back to our house, I spotted a fake flower lying on the ground near the cemetery…I just took it, thinking that it could be a good decoration for my room. When I got home I hung the fake flower above my dresser. A couple hours later, I woke up to go to the bathroom. Then a couple minutes later I came out of the bathroom and stopped in the middle of the hallway. In the middle of the hallway I spotted a ghost like shadowy black figure. It was so black that I could see the shape of its head and body.

Which I though was a ghost, but how? I got so scared that I couldn't move for half a minute. I ran to my room and covered myself with blankets. A couple seconds later, I peeked through my blankets and noticed the shadowy figure coming into my room. It was scary the way it glided into my room very slowly floating off the ground. For some reason it looked like it was looking at me.

I got so scared that I slept through the night with my blankets covering my head. The next day I told my mom everything. She told me that I wasn't supposed to take anything from cemeteries. After that, she told me that they'd go after the person until they put it back. Right after she told me that I went to my room, took the fake flower, walked to the cemetery, and put it back exactly where it was in the first place. Ever since that experience I haven't taken anything from the grave ever since.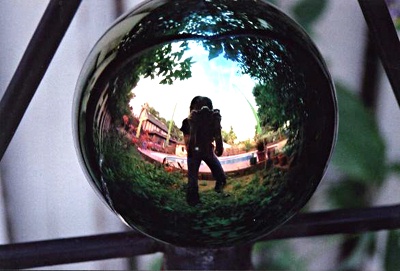 © Alexandra T., Chelsea, MI