A Cold Winter Day
October 8, 2009
The feeling of the flaming hot metal rocketing through my skin was an enormous shock. The pain was like getting hit in the hand with a hammer. The feeling I'm talking about is getting shot with a .22 caliber rifle. This all happened in Herman, Missouri, at my grandpa's property, what we call "The Territory".



Shivering in my mittens and coat, we set off for the hunt on a cold winter day. Armed with a 4/10 shotgun, and a .22 caliber rifle, we went out hoping for a good time. There was snow on the ground and trees, and it was so quiet, you could hear snow falling off of the trees a hundred yards away. But we still pushed forward, despite our frigid fingers and toes.


After walking quietly, we started to hear things. We started to hear animals running through the snow, and going through the trees. After that, we stopped and sat down in different places, to scope out the area, and potentially kill some squirrels or rabbits. Then, I heard gunfire; it was my cousin shooting a squirrel out of a tree. I turned around and watched as it fell. I congratulated him on his kill, then we returned to our places. I was now thinking about how much I wanted to kill something.


Again, an amount of time went by before we once again saw another animal, a squirrel. It was out of my range because I had a shotgun. So I called my cousin over to shoot it because he had a .22 caliber rifle with a scope on it. When he came over to where I was, I showed him where the squirrel was. He took aim against a pine tree that was behind me; I didn't move. I sat there still, not moving, waiting for him to fire. After awhile, I grew weary of waiting for him; so I stood up, took aim, and BOOM!


The scary thing is, that I didn't fire. I threw the gun down, pulled off my glove as quickly as possible, and saw a green, blue, and purple color on my hand; along with two holes. The blood started gushing out a couple seconds after I was shot.
"YOU SHOT ME!" I exclaimed.

My cousin did not know what to say; we were both shocked, and couldn't believe what just happened.


We headed back to my grandpa's house to tell him, and get help. Once we got there, we put paper towels on the wound, in an attempt to stop the bleeding. Then we went in the living room where my grandparents were sitting to break the news. To tell you the truth, they were more scared than angry.


Then we set off to the hospital. As we drove on the long country highway into town, the pain began to grow. After a while, it was almost unbearable; but yet I kept my composure. When we finally arrived at the hospital, they took my information and treated me.


Later they called my mom, and she told them to send me to Saint Louis. So two EMT's and I drove in an ambulance all the way to Children's Hospital. There I was carted in on a stretcher, and sent to a room. I was there for a while, when all of a sudden my mom walks through the door. She comforts me and eventually takes me home.


This experience taught me that you should be careful when out with lethal weapons. Also, to be more observant of your surroundings, and always know when potential danger is present.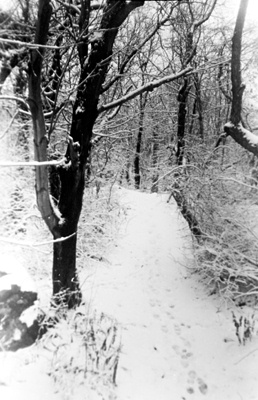 © Kelley C., Marblehead, MA