Not Really Italian
MAG
March 29, 2021
"Ciao!" I glanced up from my set gaze, which was fixated on the crowd across from me. I was ten years old and watching for the Pope, whose popemobile was set to glide through the streets a mere ten feet away from us. I was surrounded by the vibrating clamor of laughter and words in a variety of languages, blending like a layered chorus.
"Ciao!" I replied brightly, utilizing my parents' lessons of politeness. An elderly man was smiling down at me. He had a warm glow to him, emitting a sweet haze of love and memories of a life filled with satisfying experiences. I glanced at him incredulously, wondering why he was speaking to me. Had he mistaken me for someone else?
The man turned to my mother, who was also anxiously awaiting the Pope's arrival and asked her in Italian what my name was. My mother laughed softly, using her limited knowledge of French from high school to piece together his meaning. She told him my name, which sounded distinctly Italian.
I was not really Italian. In fact, I was only a quarter. I was mostly Irish, as evidenced by the constellation of freckles across the bridge of my nose. My last name, however, had often been called the "most Italian last name" anyone had ever heard back in America. Without questioning what my native dialect was, the man knelt to my height and began to speak.
It was a flurry of Italian that his mouth had twisted to form — beautiful words and phrases that jumped into my ears with grace. I imagined that he was speaking of the history of the Catholic church, of the people around us, of his Italian heritage. I wondered what story he was weaving together, twisting words and speech into a symphony of language. I caught the gaze of my mother. We both knew that I could not speak Italian. We let it happen anyway.
When the Pope did ride by, the man's speech quickened into a chorus of anticipatory words, marveling at our circumstances and the blessings before us. We gazed into the Pope's warm eyes together as he smiled in our direction.
When the Pope disappeared down the road, the man finally turned to me and asked me a question. I heard the way his words turned up at the end and the expectant expression on his face. I was suddenly filled with an intoxicating sense of guilt.
"I-I can't speak Italian," I admitted. "I only speak English."
There was a moment of silence in which the blood in my veins turned to ice, freezing my thoughts and numbing my words. I had deceived this poor man, hadn't I? He had wasted his time spinning eloquent words and phrases in Italian for a girl who could not comprehend a single word of it.
The man glanced at me incredulously for a second. Then, to my relief, he burst out with laughter. A heaving, joyful laughter that shook the ground beneath us and sang into our ears, melting my terrified expression into a relieved smile.
The man's laughter did not subside. He pulled me into an embrace. He could not speak English himself. Regardless, he thanked me vigorously and shook my hand, as well as my mother's. His chuckle continued to shake the earth until he disappeared into the crowd, gone like an enigma. Now, we were tied together with a string of connection. Two humans with no knowledge of the others' language, but with a beautiful memory nonetheless.
I was not really Italian, after all. But in this case, it didn't matter.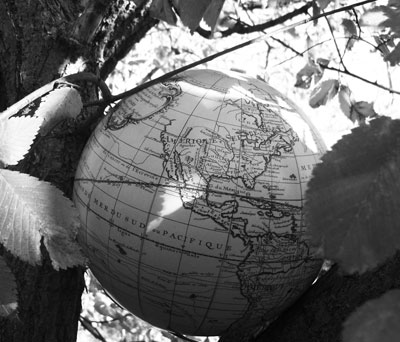 © Ella H., La Vista, NE