Away From Home
May 10, 2019
Have you ever lived outside of your country? Well, I have. As many people can guess it is a great experience, and even though I am happy right now, I had big problems in the first few years.
Let me start from the beginning.When I was about eleven years old, my dad told the family that he wanted to work in another country, also he told us that we would be able to learn English and meet new great people. But he also said that he had to learn a language and pass all the exams to go there. He was very excited about this great opportunity.
I told him that I was very happy about this, but actually I was not. Let me tell you why. I was a student who never studied, I mostly had bad scores on my tests and especially my English was literally terrible. But I was one hundred percent sure we were going to stay here. I had also been in the same school for 6 years, I did not want to leave any of my friends.
But whatever, I thought that he would forget about this in a few days. Well, he did not. He wanted to go to courses and lessons, but the funniest thing was no one knew the language that my dad wanted to learn! So there were no teachers! I have no idea how but he found a way and made them open a language center!
Months later, we learned that he had done it! He had passed the test! I did not know how I was feeling about it, I had fears! I did not know English or any other languages. By the way, my mom was pregnant and my little sister was born in April of that year which was the greatest thing in my life. I had so many good friends who were always supporting me when my mom was in hospital and I was alone, feeling sad. At the end of the year, I did not tell any of my classmates that I was going to leave except for a few of them.
During the summer time, I was just thinking about going to this country that I didn't even know, but to be honest, I started to wonder about it. Anyways, we had only 1 more month left so we started to pack up everything. Meanwhile, the worst thing happened! The place where my dad wanted to work told him that we would not go to the country for a few more months because of some reasons. You have no idea how sad my dad became. He had so many questions in his mind but he was not sharing them with us. Basically, as a family, we were having a really bad time.
Later, school started, and this meant that we had to re-sign up for it. I continued in my old school,but my older sister started high school. After 6 months, they told us that we could go. I was a little bit happier than before because that year I had some fights with my friends, so maybe leaving was the best thing for me, but I also had some good friends and I didn't want to make them sad so I told no one until the last day.
The last day came and I told all of my classmates that I was going to leave the school. I could have never imagined that everyone would cry, even the people I had fought with. That was the most valuable day in my life. You have no idea how sad it was for me to leave all of my friends. Basically, the whole day was full of sadness and tears.
I had left the school one week before we were going to the other country because we wanted to stay with my grandparents and spend time with them. Even though, I love my grandparents so much, I was a little sad to not be able to stay with my friends one more week.
Finally, it was time for us to leave.When we were at the airport, I was just hoping that everything would be as good as I had expected.
Four hours, we were finally there! Let's get this journey started! While waiting for my dad to get suitcases, I was walking with my little sister who was crying a lot. Accidentally, I bumped into someone, "Affedersiniz!" I said. But she had no idea what I had said, just like you have no idea right now. I remember that I barely said "Sorry." I had only one question in my mind, " What am I going to do here?"
I just did not feel like I belonged to this place, which was one of the worst feelings I've ever had in my life. I went closer to my mom and told her, "Mom, what are we going to do here?" She just stared at me and said, "Everything is going to be okay, do not worry, you will not want to leave from here." My answer was, "I doubt that."
I was more worried than anyone else because I always get stressed with everything that I do not like. Anyways, finally we came to the hotel. The view out of my window, the people, the place, the language, everything was very different. I was planning to speak with everyone and have good friendships in my new school. But nothing happened like I wished. Everyone was rude, and bad. Talking about me, my religion, my country… Basically all the stuff that would make me sad. I was not feeling good anymore. That school made me hate this country. I was the girl who liked to have new friends and be positive about everything, but after that school everything changed for me! I stopped being positive! Believe me, after a while, I started to think that my classmates were right and I was the problem! My parents came to school every day to talk with my teachers and solve the problems, but they could not. They saw how bad students and teachers were. And my mom told me that she did not know that everything was this bad and she asked me how I handled all this stuff.
After the summer holiday, my parents decided to change our school. Finally, it was the day for us to start in a new school. I did not have really good hopes about it. But whatever, my dad drove us there, and we were in the counselor's office. She was very nice, when I looked at my sister, she was not very happy, she told me that she knew that nothing would change. But surprisingly, I was happy. Finally, I was in the class, there were only 3 people. They were so nice! I mean two of them. One of them was a little bit weird but whatever. When I went to my second class, there were 8 people, including me, 4 girls, 4 boys. They were so nice too! My teacher helped me so much! He was super nice and told me not to be nervous about catching up with the other kids. I was super happy.
During lunch time, I talked with all of my new friends, asked them questions about school and to get to know them better! The last block, I met with all of my classmates, we were a little crowded but still, everyone seemed nice! But my sister and I were always so close to each other and not being friends with anyone, expect during lunch time.
My first year was mostly learning English! I did my best for all my classes. I didn't even have one fight with anyone like I had thought. Now, it is my second year. Now when someone new comes to school, I try to be as nice as possible and help them to feel good. And some of my new friends told me that being friends with me and my sister made everything much easier. This year probably will be my last year. But I really don't want to leave this beautiful country and good friends. I know it sounds very weird, I came here because of my parents' insistence, but now, I can live here for 10 more years! To live in another country is a great experience, it is so hard and in the same time good. I am not regretful of coming here. I am so thankful to my dad for making a good decision for our education and life.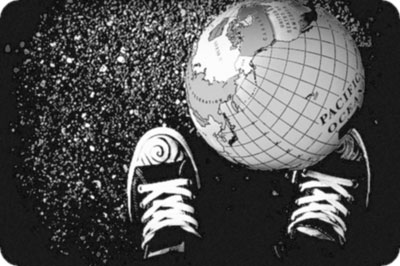 © Kailey E., Crownsville, MD