The Impact of Loss
March 13, 2019
I had lost two grandma's within two weeks.

At the time, I was 15 years old. My dad's mom, Grandma R., and I never got along. She had short, grey, curly hair, wore gold round glasses, your typical "grandma style" sweater and matching cotton pants with black tennis shoes everyday. Saying she was a little old fashioned would be an understatement. There was a daily argument that took place that usually consisted of her calling me every name under the sun to which I would defend myself, but that just fueled her anger even more. Typically she used to yell at me about my attitude, my behavior, how I dressed, work around the house, how I talked to her, etc. She always had that one line that pushed her so far over the line she couldn't even see it anymore. "You remind me of your mother" or "You sound just like your mother". The whole story behind that line is one for another time. However, my maternal grandma, Grandma S., was my best friend. I called her Busia which is the "american-polish" for grandma. I called her that because she had told me this really special and beautiful story when we were waiting for her apartment elevator; she told me she always wanted to be called busia, so that's what I called her. Anyway she also had short, curly, grey hair, wore gold oval glasses, and had a variety of styles she liked to wear, from jerseys to sweatshirts to t-shirts, jeans, dress pants, and her white velcro shoes, etc. On special occasions or holidays she even wore festive accessories, maybe even a little makeup like blush that always made her extremely happy which was cute. She was the nicest and the sweetest person I have ever met. Whenever she was around family, I never saw anyone happier, smile, and laugh as much as she did.

Grandma R. had cancer. She was healthy and constantly moving for the longest time before she passed. She cooked a big meal for dinner every night, she went to lunch with her friend all the time, went to church every Sunday and then to bingo right after that, and did lots of lawn work. It wasn't until her last year, last month really, that she began rapidly deteriorating. One week to the next was drastically different. She was walking and going about her usual routine with the exception of taking a few more medications. The next week she was having trouble walking and would have pain in her legs; add a few more medications. My aunt Lucy would stay over at her house almost every night on a blow up mattress outside of her room to take care of her. The coffee table in the living room was full of papers and medical supplies with all of my grandma's medications organized neatly on top. My aunt knew all of the doctor's instructions and was given a binder full of information about at-home hospice to reference for help. The day my aunt knew would probably be the last, she called my dad, her sister Carol and older brother Gary. I had gone with my dad over to her house where my grandma was just lying in a hospital bed in her dark and shadowed room. She looked ghastly with her pale complexion, bony frame and glossy eyes. My aunts and I were sitting on the couch outside of her room while my dad was on the soft green recliner next to me. It was going on March so we had the front door open but the screen door closed. It was a pretty nice day outside, slightly cloudy with a subtle breeze in the air that wafted through the screen and into the living room making it a tad cool but still comfortable. The moment my aunt Lucy and my dad stepped outside for her to have a cigarette, my aunt Carol walked into the room then walked directly back out. "Oh my god she stopped breathing!" She rushed outside to get my dad and aunt. I was still on the couch as I couldn't go in that room. It was like I was sitting there stuck, just watching it all happen around me. When they came inside they went straight into her room to say goodbye. One by one they trickled out. First my aunt Carol, then aunt Lucy, lastly was my dad. As each exited the room, you could see the sadness in their eyes, their tears flowing down their cheeks glistening when the light hit their face. After about 45 minutes the mood shifted and we were all talking, joking around, and laughing like normal. My aunt Lucy had made the call to the funeral home for them to come and get my grandma. Until the two men arrived, everything seemed sort of normal in a sense, all except for the fact that my grandma was in the next room behind the door. When they came, they were both dressed in dark grey, almost charcoal, colored suits with black fedora style hats and black coats. They brought in a gurney with a black leather body bag resting on top which didn't seem to scare me when I saw it. They went into the room and shut the door for about 15 minutes. When the door opened, they were pushing her through the living room about 3 feet in front of me towards the front door. The moment they were wheeling her out is when it hit me and really creeped me out the most, 'These men are taking my grandma's lifeless body outside. In a bag.' I don't remember crying once when she passed, that day, or her funeral. It might be because we were never close. It might be because she was horrible to me. It might be because my dad was crying and I wanted to let him have his moment to grieve and be sad. I'll admit, yes, it was sad, but I was okay.

Grandma S. was also pretty healthy before her accident. It was New Year's Eve when she was in the small white kitchen of her apartment standing underneath the very bright fluorescent lights making pea soup for my grandpa. The hot soup splattered on her which caused her to fall on the kitchen floor, ultimately breaking her leg and sending her to the hospital. She had surgery to fix it however the doctors chose to leave the wound open for it to heal on its own. Nurses would come into her hospital room to change the dressing on the wound but that was all they did for that. It was a major controversial issue within our family because no one understood why the doctors left it open; we just saw how much pain it caused her. After the surgery, my grandma was taken to a senior care/rehabilitation center. Both of my grandparents were in this same place a few times before and every time, there were issues that left them and the rest of the family unsatisfied. She was in a lot of pain for such a long time. I witnessed her happy, caring, light hearted, beautiful personality slowly fade away over time. She was miserable. Grandma S. had gone back and forth between this rehab center and the hospital. Eventually, it got to the point where my grandma would only talk to my aunt Samm, hardly to my grandpa even. I remember this one day my brothers and I went to visit her; my aunt and grandpa were sitting in a little tv room down the hall watching tv for a while to let my grandma rest. I wanted to see my grandma so my aunt took me down to her room. I said hi to her but she seemed a little dazed because she didn't open her eyes a lot and she called me by the nurses name. When she called me a different name, I felt extraordinarily sad; I wanted to start balling because she didn't recognize me, but I stood there and held it together until we went back down the hall. Not long after that day, I was in the car with my dad going to Grandma R's house to meet aunt Lucy to go through some things and start organizing when my dad got a call. I heard my dad say, "Oh hey Bill." which is my uncle, Grandma S's son. I thought it was kind of weird and also couldn't be a good thing because Uncle Bill never calls my dad unless it's something big and important. When my dad hung up the phone, that's when he told me the horrific news. "Grandma passed away." I immediately started crying. I had nothing to say. It was like the light and warmth in my life was taken away and was replaced with darkness, sadness, and loneliness. My dad asked me if I still wanted to go help my aunt that day to which I just slowly shook my head yes as I wiped the tears from my face. I walked into the house with red puffy eyes and tears streaming down my face. My dad told her that Grandma S had died so they gave me something to do and left me alone until I came to them. That was one of the worst days of my life. My best friend was gone.

2016 was the absolute worst year of my life. It started out horrible with both grandma's sick and passing away, school was killing me, my anxiety went through the roof to where I needed to get help. Everything that could go wrong, did. However, through it all, I realized it all started with both of my grandmas. After a while, I realized more than ever that how you treat others has an enormous impact, on yourself and others. If you go through life being horrible to others, you aren't going to have that many people in the end or just went you need them the most, but if you are kind and caring, you will have so much more love and people that care for you who will always be there for you through it all.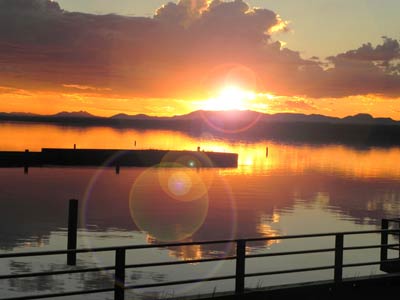 © Kellie K., Milford, OH