My Past Love
November 13, 2018
Everyone that has entered your life has given you something, even if they have left. They have taught you something or gave you something. Throughout my life, I have been given Fun, Music, Acceptance, Strength, and I have been given my life back. Everyone that I have told I loved, from my first to today, has given me a gift that has shaped me into who I am today.
Brown hair, brown eyes. That was Bradley. He made me laugh and although he was a childhood sweetheart, Bradley was my first love. Bradley was a singer and I was a fighter. He would sing me songs as I would fight his battles. Playing in the dirt and playing make-believe was our best times together. After Bradley left I was devastated because even though it was puppy love, he took my first kiss with him but replaced it with fun and music that will sing in my heart for the rest of my life.
Eyes as green as the grass under my bare feet. My Bell. I watched her waste away at every meal until one day she was no more. She held me when I was sad and when I was happy. She never judged me on my past and acceptance me in every way. She was the first person in the outside world to accept my pain and I now carry that with me everywhere I go even after her death.
The Blue Eyes that just wanted to hurt. These belonged to a boy I wish never to say the name of. I thought I had loved him because he had lent me astray with words of kindness. Being in a dark place when he approached me made me vulnerable and scared and I followed. I followed till I had become strong. This strength is still with me and will never let me be lent astray again.
Yet another pair of Blue Eyes but these filled with nothing but love. The last blue eyes had torn me up and spit me out but with this new man, I have my life back. Everything that is held in my heart falls in perfect pieces with his from my Fun, Music, acceptance, and my strength. This blue-eyed cutie is Adam. A name that I call for when I need help, a name that I say to make me happy. Adam has given me my life back with full colors.
I am me today because of these gifts and although these are not all the people I have loved these are some of them. Thank you, everyone, that has been in my life and why don't you look at the gifts you have been given as well.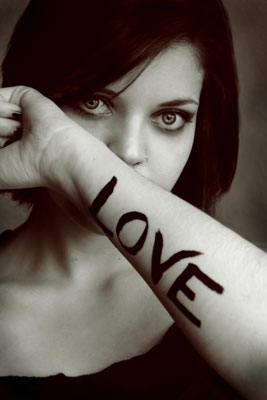 © Michelle B., Blairsville, GA