At Freedom's Front Door
September 28, 2018
The cold May wind inched its way across my back as I stood in front of the Rhinelander Air Force Recruiting Station on Friday, May 17. I glanced at my watch. 10:00. The shuttle that would soon take me to the Military Entrance Processing Station (M.E.P.S) in Milwaukee, should have been here by now. At this point in time, I was pacing up and down the front of the Recruiting Station talking to my mother about my future. At long last, the shuttle arrived and the driver, Tom, loaded me up and we made our way.

Our first stop was the Wausau recruiting office where Master Sergeant Turner briefed me on the ins and outs of what would happen at M.E.P.S. After checking my paperwork (birth certificates, adoption certificates, Social Security number, and driver's license) he made well and sure that I had enough underwear with me. "When you get down there, you're gonna go through you're physical and then do the Underwear Olympics." After finding out the details of the Underwear Olympics, Tom returned from gassing up the shuttle and we headed out.

Three tired hours later, we arrived in Milwaukee where Tom dropped me off at the Crowne Plaza Hotel. After figuring out where to go, the hotel liaison briefed me and six other recruits on our room assignments and expectations. After meeting my roommate, Dylan, and settling in at room 312, we made our way to the 8th-floor lounge, where I was able to socialize with the other recruits.

As the jokes about the Air Force began to flow, it took all but five seconds to realize that I was the only Airmen recruit there. Everyone else, including Dylan, was a Marine. After a good fifteen minutes of getting heckled, I went down for dinner and retired for the night afterward. But as much as my eyelids wanted to shut, I was too excited to sleep.

BEEP! BEEP! BEEP! I rolled over where I slept, glanced at the alarm clock and groaned. 4:00, A.M. After showering, shaving, and downing a cup of coffee, Dylan and I made our way to the front lobby where we enjoyed a quick breakfast. As I tried to swallow some toast, I was pleased to make the acquaintance of Ms. Sage Harper, another Air Force recruit. Surrounded by squids, grunts, and jarheads, her company was a welcomed relief.

At 5:00 A.M we finally arrived at the M.E.P Station where we were ushered through a TSA checkpoint, just as you would be at an airport. I made my way to the front desk, where we were fingerprinted and sent into a briefing room. As I filled out medical paperwork, I noticed a sign up front that read "Freedoms Front Door".

While puzzling over the mottos meaning, I was lead out into the hall where, after I was breathalyzed, drug tested and blood tested, I sat and waited for my physical. After the old drop and cough routine, the doctor cleared me of any possible issues.

Then it came time for the dreaded "Underwear Olympics". I stood there with nine other guys, waiting patiently for the doctor to return. When he came back we were ordered one by one to bend over and touch our toes so that he check the curve of our spines. We also had to walk toe to toe in a straight line, walk in a straight line at normal speed, and let him check our hands and feet.

After getting dressed, I went back and waited for the doctor to clear me for enlistment. Talk about an experience in suspense. It was the most gut-wrenching ten minutes of my life. I jumped for joy when the doctor said: "Alright pal, you look good to go." I then left and went to talk to Sgt. Holmes at the Air Force office, and picked out five or six jobs that I was interested in.

I made my way to contracting where a liaison helped me write up an eight-year contract where I would serve six years active duty and two years in the Inactive Ready Reserve (IRR). I also left my death benefits, last paycheck, the right to identify my body, and what property I have accrued to Mom and Dad in the event that anything should happen to me in the Air Force.

At 10:30 I had lunch and afterwards was lead into the ceremony room with a National Guard recruit, where a liaison briefed us on our duties and discussed with us the legal ramifications of MIA (Missing In Action), POW (Prisoner Of War), Desertion, and going AWOL/UA (Absent Without Official Leave/Unexcused Absence). The liaison also briefed us on how to stand at attention, when and how to stand at parade rest, when and how to address the station commander and how to say the Oath of Enlistment.

After five minutes of standing at parade rest (hands behind your back with right hand overlapping left hand) the station commander, Captain Howell, entered. He administered the oath to the National Guard recruit first. Then it was my turn. I raised my right hand and repeated after Captain Howell.

"I, Daniel, do solemnly swear that I will support and defend the Constitution of the United States against all enemies, foreign and domestic; that I will bear true faith and allegiance to the same; and that I will obey the orders of the President of the United States and the orders of the officers appointed over me, according to regulations and the Uniform Code of Military Justice. So help me God."

It was one of the proudest moments of my life, walking out of the ceremony room knowing that I am only one in twelve candidates that have the honor of making it through the M.E.P.S process. On the ride home, I sat in the quiet thought of that sign that hung in the front lobby and pondered a question that had been bothering me all day. Where does freedom begin? After careful consideration, I came to my conclusion.

Freedom doesn't begin with the Constitution or with the Bill of Right. It doesn't begin when laws are made and bills are passed. Freedom doesn't begin when court cases are won. Freedom begins when brave men and women step up to defend and protect their country. Freedoms Front Door is the 65 MEP Stations and thousands of recruiting stations across the US that help young men and women begin their journey to defending and protecting their country. It is a journey that I am, and always will be, proud to be a part of.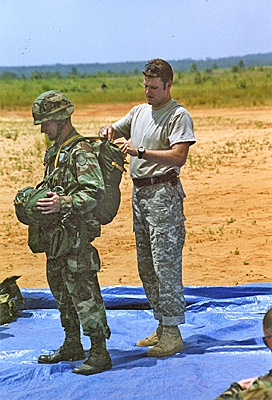 © Mark A., Phoenix, AZ