What Home Truly Is
October 21, 2017
I miss it already. The front room with the willow tree mural and the old piano that is slightly out of tune, the bedrooms crowded with beds loaded down with layers of pillows and blankets for those who come to visit. The dining area, with its huge wooden table that seats ten, decorated with a lazy Susan and strewn with the plates and cups that have now fed at least two generations of this family's children. My grandparents' large backyard, with its small family apartment attached to the shed which houses my papa's gardening tools, the grassy lawn where my cousins and siblings and I used to run around and play. How I remember the hide and seek behind the palm trees and the bushes and the long grasses! And the diving board, where we dived into the once cool, refreshing waters of the in-ground pool, and the endless hours of swimming. The sunburns gathered in our playtime, courtesy of the hot Alabama sun. I miss the home where I danced in the warm, torrential rains of a hurricane with my cousins and siblings when I was five, while the adults watched us as we danced, aglow with laughter and the joy of being with each other.

That is what I miss the most: the people I share this home with, in good times and in bad. The people who have supported me all of my life, whether it was the adults applauding my kid shows and concerts in the den, or giving me a hug and encouraging words when I was feeling down. Or the younger cousins who cuddle around me and admire me, who boost my confidence as I see how much I am to them as my aunts and uncles are to me. Or the cousins who match me in age, who acquiesce to sit quietly with me on the front porch swing, where we'd chat away the hours while the little ones are napping soundly in the rickety old crib or the beds lined with soft, cushy pillows.

As we pull away from the yard, with all of my family smiling and waving to us from the porch, I fight the urge to cry with everything I have. How can I wait one more year to see all of my family again? To walk along the streets of Mobile with my dad on our way to and from church? To visit my aunt's muffin shop downtown, or my grandmother in her home on the bay? How to wait another year to visit the cemetery where all of my family, including my little baby brother, are buried?

As we cross the state border from Alabama to Mississippi, my heart is screaming, yelling for me to shout at my mother and tell her to turn back and bring us home. But then I remember that I have another home, too, and a school I have to get back to, a whole line-up of parents waiting for me to return from vacation because they need a babysitter. But most importantly, I have family, and friends so close they're like family, who miss and need me almost as much as I do them.

So I squeeze my eyes tight and take a deep breath. Because even though I'm leaving something great, I know I'm going home to something nearly as good. I have people I love back in Missouri, and I know that I can never truly leave those I love in Alabama. For I carry the memories of the playroom stocked with the toys my dad played with when he was a little boy and those of St. Mary's Church where I was baptized, and even the ones of the little blue building on the corner of Broad and Old shell where my grandparents used to own the family business. I've stockpiled memories of all of the good times with family and friends that we've spent laughing over the silly things the little ones have said and done. The times we've comforted each other with tender hugs and kind words of understanding as we grieve the loss of loved ones. The moments when we've sat quietly in the den, and everything is silent and still as we relax in the cushy armchairs and couches, simply enjoying and appreciating the presence of the love of family in our lives. I carry them all in my heart, and they say that home is where the heart is.

Reflecting on these fond and infinitely cherished memories, I know for this very reason that they cannot leave me. Even when I am filed with sorrow and longing for the only consistent home I've ever had, I know that I have never truly left my sweet home, Alabama. For I am always thinking fondly of my home, and those in my home are always thinking of me, and that is what home truly is.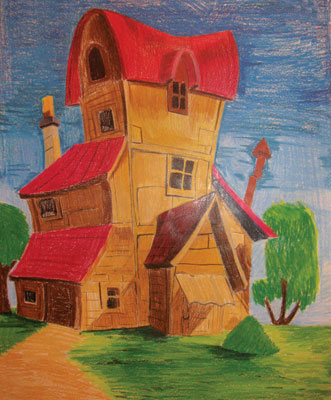 © Ronald W., Sherman Oaks, CA