A Tree of Rights: My Childhood in Syria
MAG
October 25, 2015
My body was created in a special way. It was fed from threads of tents, drank from scythes of the poor, grew up from white wings, breathed the air of injustice, studied at schools of peace, and lived poorly between spikes and seeds. I have fed my poems, articles, and writings from the pain of my life, the pain of my suffering, and the pain of my memories.
I was born in a camp for refugees, founded in 1948 in Damascus, Syria, after the Israeli-Palestinian conflict. I was born without my Palestinian nationality and without roots, without anything belonging to me. My parents were born as refugees too.
In the refugee camp, I was born alone in autumn, between yellow dry leaves and empty branches. I always tried to collect these leaves, to put them together in order to create a big green tree, to bear my rights on its leaves. I was born like this tree, with no cover to protect me, no wings to fly or keys to extend my thinking above the roof of our tent. My body wasn't born in its own land and didn't know its rights.
I was always wondering, Why are my rights stuck in the autumn season and everyone else's are quite green? How can I grow this tree, to live?
I grew up stealing. Stealing my share from the air, to breathe. Stealing safety from fiction. Stealing nationality from hope. Stealing a dream from cages. My only ambition in life was to get my rights.
I remained under the tree, tried to collect the leaves, to grow up. I tried to draw a future for myself on its leaves, a map for my life.
• • •
My life started in the blue schools that were helping the Palestinian refugees in Syria. I learned the alphabet and used it to clothe me. The words were a shield to protect me. I went to school every day in the face of life's difficulties (poverty, hunger, and cold). I clung to the school.
I was used to a simple life, I left home with my mother every morning and walked through narrow alleys, greeting neighbors. On the way, I bought from a small bakery a cato taza – a small cake made with starch powder. It was very common and cheap in the refugee camp, so I used to warm myself with its heat in winter.
At school, I had a friend named Mustafa whose father had died when he was in his mother's womb. His father was very happy when he heard that his wife was pregnant. He tried to provide everything that his wife needed. One day, he and his daughter were preparing firewood and a gas cylinder to warm them. Suddenly, the gas cylinder exploded, killing Mustafa's father and leaving his sister deaf.
A month later, Mustafa was born. This fatherless child entered life through a door filled with spider webs. He became child, brother, father, and man of his family. He is the first child-man.
Mustafa and I were in the same class at school. We used to walk together, and he always told me, "I was born with so much missing. I miss family, land, a home, tenderness, and nationality."
I replied, "Everything."
"No, not everything. There is something to live for," he replied. "There will be a day when we get all our rights. We will grow up, we will work and make a family. There is a child calling us to life. I love life!"
Many times, we asked our teachers questions that they hated, maybe because of the missing answers. We were asking about our rights, but the only answer the teachers gave was, "That is not our lesson today."
One day we told our music teacher, "Our rights are feelings located between violin strings, and often they get lost while an innocent tear comes out."
He suggested we make a tree with leaves and hang it in the school courtyard, and write every day on the leaves of the tree a right that we don't have. He said we must grow up and transform these leaves into real rights that we can pluck when we finish our education.
The tree was moving from the autumn season to spring, and it decorated all the oppressed people with its leaves. When I went to sleep, I would think of a right that I didn't have and add it to the tree the next day.
Citizenship
Safety
Living in my own ­homeland
This tree made me strong and taught me what rights were, what I didn't have, and what I must fight for. It became a compass for my uncertain future.
One day, I woke up to the sound of an explosion nearby. I saw fire and smoke, and my neighbors and I ran toward it. What I saw when I reached the place has created a picture in my memory. It burns me always when I remember. Memories ignite insufferable pain.
My school was destroyed, exam papers and desks were burned to ashes. I couldn't believe it, even though I was seeing it with my own eyes!
All my memories became a dream of a land. My friends and I! Where were the days that we played in class, that we talked nonstop, studying together and singing songs of love and peace? That's my school! Leave the schools out of this war! School is where I learned the meaning of peace. Why always in war are the innocent killed? Where is the laughter that filled the courtyard? Everything is dead, gone, an echo. Everything had changed to fire trucks, ambulance sirens, and screaming voices. The walls of my school had been destroyed, the space filled with dust.
I saw a woman coming toward me, running unshod through the crowd. She was hitting her head, shouting in a hoarse voice, "MUSTAFA! MUSTAFA!"
She was his mother.
I told her not to worry; the explosion happened in the morning, and the school wasn't open yet.
She said, "He went to buy bread in the early morning and didn't come back!"
I told her, "He will come."
Bulldozers clearing the rubble turned out some blood. The rubble was moved, and I saw the school guard who used to play football with us, and I saw a man who worked in the cafeteria who we played cards with after school. His wife was pregnant, and he had wanted to register his child in our school when he was old enough.
Both men had become carnage of meat.
Suddenly, I saw Mustafa's mother run toward the rubble and throw herself on it. I knew she had found her son.
I looked for the tree of rights that we had hung in the courtyard together. It was burned, and it slept with Mustafa.
Nothing remained of the tree. Nothing remained of hope!
The tree had fallen down and my dreams had fallen with it. My life became like it was in the beginning – a life without rights, without school, without a home, and without friends. I got lost.
My tears mixed with the soil and blood of my school. I knew that the complex drawing of my future had increased in complexity. It was the last meeting between my school and me, and between my first life and the last photo that I saved.
It became a wound that will never be forgotten.
While I was remembering all the days and memories and the reality clung to me, I called out to my friend Mustafa.
I told him, "Get up! You love life! There is a child calling you. Do you remember?"
No one answered me but fire trucks and ambulance sirens.
I told him, "You are free, my friend. All the leaves of our rights tree sleep with you in your grave for­ever. Maybe you can pluck them in the grave?"
Mustafa will not die; he will live in every humanitarian heart.
As for me, will I plant a new tree?
Editor's note: The author is now safe and is continuing his education.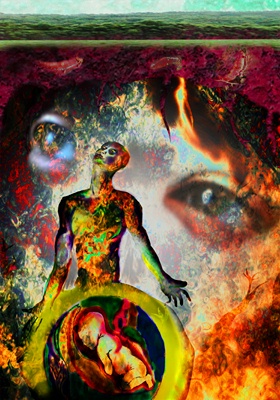 © Tom M., Philadelphia, PA