A Wonderful Book...
February 3, 2015
Ok, can you please explain to me why you had to end it this way AND not even take the time out of your day to write a sequel? I mean, come on! I read a simple book review about your book and thought it'd be interesting. If I knew that you weren't going to create a sequel and that the book would be just so darn intriguing, I wouldn't have bothered even reading the darn thing!
Have you ever had a similar thought go within that brain of yours? I'm sure all readers on the history of this entire Earth have and most likely always will. I suppose this piece of writing is just me venting about how ridiculous it is that authors write such amazing books, end it in a way that makes you want to read more, and then not even give it to you! I'm a huge fan of a woman named Ally Condie (I'm sure many readers have heard of her). She recently wrote this book called, "Atlantia." This book isn't supposed to have a sequel but the way it ended, it had me balling my eyes out, wailing at my pillow literally at 2:30 a.m. in the morning because there won't be another book continuing it! I mean most of the time when this happens to me, I simply create my own continuation, but hey, when you read such a good book, you don't want to ruin it by continuing it.
Honestly, I have no idea where I'm getting at now, just that I'm so irritated by it. Woo! I have an idea! How about this be a letter to those wonderful, extraordinary, and marvelous authors out there!
Authors:
My name is Jasmine and I'm writing you this friendly letter on behalf of all of your dandy little readers! We would like to ask you to not again publish a wonderful book without completely finishing it or making a series from it. Also, to make it better for you, I hereby pledge to always read the entire series (meaning if it's a trilogy, I won't just read the two first books, most of the third, and the last page of the third one to see what happens). Trust me, this means a lot for me to actually pledge this since it's been a habit of mine since I was a very tiny girl to just read the first books, most of the last book, and the very last page. Therefore, most of the time, I don't even read the entire last book (sorry Suzanne Collins!).
Sincerely,
Jasmine
Thank you all for putting up with my brain for the last 5 minutes or so…means a lot. Have fun reading the rest of the wonderful work in Teen Ink!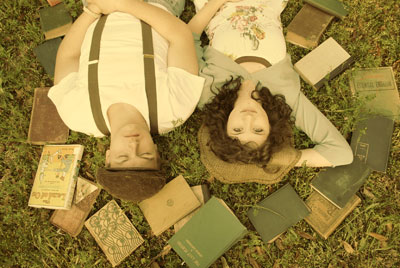 © Gabrielle A., Pensacola, FL