Rhapsody in Thomas
May 28, 2014
The laughter dies down and the audience regains focus as two musicians take their places on stage. The lanky pianist with the scruffy hair seated, back to the audience, at his elegant maple construction, beside the stockier guitarist, dark hair combed back neatly, inspecting the grooves of the tightly coiled wire strings on his more compact, yet equally sleek, instrument. Lights dim and focus on the two, setting the scene for what the entirety in attendance anticipated to be a mesmerizing performance.

The silence beckoned the two musicians, as if mocking them, but the pianist would have none of that, as he laid finger to ivory, and began to carve his melody out into the still. It starts with a slow, graceful sonnet, and, with a smiling nod toward the guitarist, becomes a deep, soulful duet- fingers to strings, keys to fingers.

The pianist, a friend of mine, finds nirvana on the leather bench. His fingers move quickly and delicately over the keyboard, they know where to go, their dexterity retraces a path rehearsed many times before. I cannot see his face, but I can feel his smile through the rhythmic bopping of his head, the entirety of his being in sync with the music- rich chords floating off the sound board, mingling with the reverberation of notes plucked from steel strings.

They seem to be in their own realm, encapsulated in the spotlight. It is a one way mirror; just two dudes jazzing it out, oblivious to the dozens of listening eyes. Each note resonates in it's own way, takes on a personality for itself, before evaporating into an atmosphere of calm, which hovers just above the scene, slowly diffusing and settling on my mind, seductively pulling me into the collective element of it all.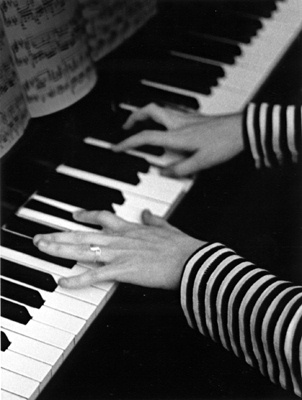 © Paulina A., Marblehead, MA