Running
April 17, 2014
Running up and down the stairs, feet stomping at every step, for what feels like hours but in reality is only a little more than an 60 minutes. I feel my sweat running down my cheek. I hear my coach yelling for us to move faster, for us to try harder. But I am trying. I'm trying very hard but she's convinced I can try harder. My teammates are yelling also. They want me to move faster but it's not my fault. It's the girl in front of me.She's the one not trying hard enough. She's the one going to slow.

It's during hard Track and Cross Country practices like this I often wonder: Why Irun? Why do I choose to subject myself to the same torture season after season, year after year? I always come up with the same answer. I continue to run because deep down I actually like running.

I honestly tolerated long practices in the boiling hot third floor A wing, having no social life for 3 months at time for pretty much most of the year, coaches who are angry at my 95% of the time and leg cramps for the feeling I get at the end of the race when I know I've finished. And even better the feeling I get when I realized I've won. That one brief moment makes all the other crap I endure worthwhile. It makes all the annoying things about running competitively okay because for those few seconds I feel special.

But even more important than that feeling of accomplishment I get is the fact that running has become my identity. I am a runner. I will always be a runner.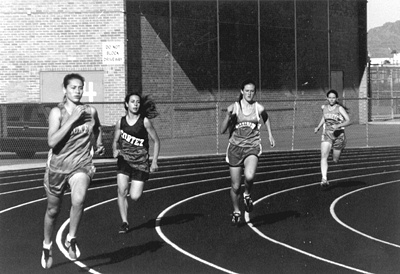 © Lauren J., Phoenix, AZ