A Universal Perspective
January 12, 2014
She sits in her simplicity across the room, sandy hair, hazel eyes, wrapped up in the familiarity of a hoodie. I watch her thoughtful expressions, aching to know what flows through those deep and sparkling rivers of her mind. Dreaming of fire breathing dragons and dancing amongst the stars, she has far too many adventures to count or even fathom, right there in that tiny little infinity.

She has one of those rare smiles, a smile like Jay Gatsby's- understanding you just as far as you want to be understood, believing in you as you would like to believe in yourself, and assuring you that it had precisely the impression of you that you hoped to convey. She has the cognition of Augustus Waters, memorable dictations of wit leave her like stars falling from the sky.
Her voice is the color of the banding at the top of a Ticonderoga pencil, unique and fresh, bright green like an ash tree in spring. Her eyes are green too, deep pools of thought for everyone's view, but they don't see, because they don't look. I look, I see between each fold of emerald tissue, and the things circulating within are beautiful.
As she tells her stories of forest walkabouts, winding vines, and universal perspectives, I feel the weight of worry and concern lifted, my world transformed as I step into hers. I forget what anyone else is saying, I abandon my judgments in exchange for a perspective on nature's bittersweet optimism, I let myself be overwhelmed by the advancing purple flowers, I skim the surface of the milky way with my bare fingertips, caressing the rings of Saturn. Encased within her writing is my happy place- and what a wonderful place that is to be.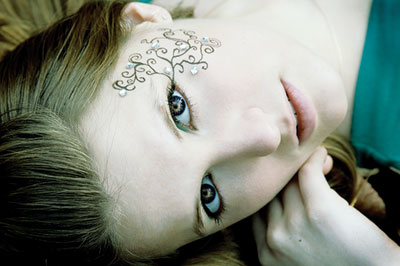 © Michelle B., Blairsville, GA