Memory Fades
December 19, 2013
I saw her like that, everyday. Seeing my grandma bed ridden became a usual thing, and I didn't really know what it meant. As I walked down the stairs I said good morning to her, and her nurse. She smiled at me, because that's all she could really do anyway. I watched Caillou, and my mom made me a grilled cheese sandwich on the stove that nobody ever had time to clean. I put on my red and orange jacket that always made me look puffy and ate my sandwich. I walked outside ahead of my mom to the front of my street so I could wait for the bus.

We lived near a busy street, mostly cars that are going on and getting off highways used it. It was never quiet, always loud obnoxious trucks. My grandma, I remembered, had a fruit stand outside by our driveway. Everyday she would sit in her same old chair in the stand with an iced cold glass of water, with a blue and red striped straw. Cars would stop from all over the place and grab some fruits on their way home or we only imagined they were on there way home.She was the best at peeling apples for us. Fresh apples from her stand. She had a freezer in there too, and would keep popsicles in there for us. The back of her stand had a little playpen for us. Since I was 7, I used to play in there. It had a sandbox, and a kitchen set that had a highchair for my baby that I would bring. My grandma was sweet, and always tried to make us and her customers as pleased as possible. She has a white puffy afro, and always a cheery smile. She was amazing. I used to run into her room every morning and help her down the stairs. She never learned to drive a car, my grandpa used to have to drive her around in a beat up, old, brown, two door truck. She had a cane that she used to use, it was light brown. The stand was closed, because my grandma got sick and couldn't take care of it anymore. All I was standing in front of was a hopeless white stand, waiting for the bus to come.

My mom and I would sing songs while i was waiting for the bus like "Over the River," just like my grandma would do when she waited with me. When my bus finally came, I kissed and hugged my mom goodbye, and sat down on the bus. It was an ordinary day, with Mrs. Wilson teaching us how to add and subtract, and read a book during the quiet time. School was dragging on though, like it did everyday but maybe that's because I never really liked school. I hated history the most though, I never thought it was necessary to learn about different countries.
The bell rang, and like always I waited for the bus to come. I sat next to Michael, who was my best friend and made silly jokes. On our way home we talked about what we did in class that day, even though we mostly fooled around. We arrived to the first stop then, which is my stop. I said goodbye to Michael and I got off the bus. I walked across our rocky driveway, and opened the white front door. As I walked inside, my mom, sister, brother, and dad were all sitting in the living room and it looked like they had been crying.

"What's wrong?" I asked.

"She passed away," My mother said.

I refused to believe it. As I looked back to the bed where she used to lie, I saw her nurse folding up a blanket, and it looked like a movie. We put her hospital bed in the backroom of ur house because there wasn't enough room anywhere else. The bed would stick out behind one of the couches so she could watch tv if she wanted even though she wouldn't know what was going on. I still didn't believe it. I ran upstairs to my grandmas room to see if she was in her actual room, but I saw no one. My mom was standing at the bottom of the stairs waiting for me and said, "Layne, she's really gone."

Hearing those words pierced my ears like a bullet. I'll never forget that.

All that's left now was the concrete floor to where once a white stand, that made people happy and fruit that made you cool during a hot summer day. A photograph, of a picture of my grandmas stand is still here too. On the stand it says "R.I.P Mama. Stand will re-open in heaven."

I don't think I'll ever forget that. I was six years old and watched the memories fade away with my grandma until there were no more but only old photographs.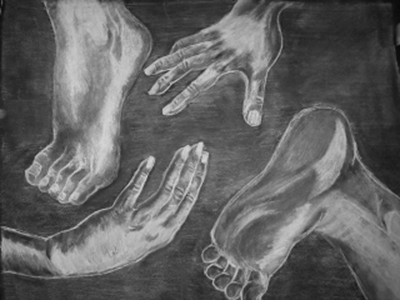 © Rachel U., Danbury, CT