Slipping Away: Stages of Saying Goodbye
June 16, 2013
When Malka married Mottel, the entire village danced.
It was a Friday afternoon. Wyszkow on the river Bug was buzzing with preparations for Shabbos (the Sabbath), the day of rest- but also for the wedding. Tables were set for a wedding meal; a chuppah, a sunshine-faded velvet canopy embroidered with gold thread, was put up outside the synagogue. The anticipation of Shabbos was tangible, along with that little extra something, that tingly excitement one feels as a wedding draws closer.
It was nearly Shabbos, but not quite, when the groom and bride were married, outside, under the reddish gold of the setting sun. Malka stood under the canopy, her radiant glow beautifying her simple white gown, as Mottel slipped the ring on her finger, and her heart soared as she heard the shattering of the glass under Mottel's foot and the answering, joyous cry of "Mazal tov! Good fortune should befall you!"
As the sun set and the first stars began to appear, the bride lit Shabbos candles for the first time, welcoming the Shabbos queen to her new home, and the whole village danced.

***

It was at a different wedding when my mother first saw Malka stop still, blank and unremembering. I don't know whose wedding it was - even she doesn't remember, it was that long ago -- but the incident itself is still vivid in her mind.

"Hannah, Malka didn't remember my NAME."

I shudder. My mom? Her own niece? Michael's only daughter, practically her honorary granddaughter?

"Her expression was-scary." My mom still remembers it clearly. "It was only there for a second but it was still one of the most frightening things I'd ever seen."


Malka had stopped- stock-still- her face was smiling, but it was more like a grotesque mask of a smile, rubbery and fake and terrifying.


"I was about to go get my mother- Grandma- but then she suddenly got okay again; she said she was all right..."


"And she knew your name?" I ask, hooked on that. "She remembered it?"
"Yes, she remembered it." My mom's expression turns musing. "But she seemed a bit disturbed about it. She was pretty okay after, but still... of course she was scared..."


***


The village by the river Bug flourished in the years following the wedding, and with it flourished Malka's two daughters. Malka would watch from the balcony as Toby and Rachel ran in the courtyard and played marbles and soccer with their uncle Michael, a few years older than Toby (but, as he emphasized, a great deal wiser). The skies were blue and calm, and they ran in and out of the apartment, snatching Grandma's cookies from the jar as they dashed out to the banks of the river to play and feel their toes squelch in the mud at the banks.
They grew up there for eight years, surrounded by family and life, always with Malka there, washing their stained dresses washing and kissing their scrapes and bruises, the watchful mother gazing from the balcony.


***


I'm sitting with Malka, bold and confident as only a horror in her terrible twos can really be, on the stairs of Toby and Aaron's house, where Malka lives. I reach for a chocolate tea biscuit, sticky toddler hands flailing in the box, until Malka takes the box, hands me a cookie, and takes one for herself. Now, Malka sits next to me, and we cheerfully block the stairs to the front door, sitting companionably next to each other as we chomp on our biscuits.
I am two. She is ninety.
After that, she takes my chocolate-coated hand and brings me outside to Toby's yard, an overgrown paradise of grass and trees and flower bushes, where she pushes me up, up, up on the swing, giggling with me as the swing brings me down. Then we snip lilacs off the big bush by the driveway, to make a bouquet for my mother.


***


Nobody in Wyszkow had ever seen a plane fly over their town before. Now they flew by in droves, roaring and whistling through the air.
After synagogue as men folded up their prayer shawls, and in the market where women went to buy their groceries, there was a buzz of tension easily felt in the air, and a perpetual crease between the eyes of the worried populace. Rumors exploded. There were whispers of an imminent bombing- but no, we're a small town, why would they bomb us?- ah, they won't bomb us, we're important; we've got the only bridge across the river Bug for many miles...
Toby and Rachel saw the planes, too, when they played ball outside the building. They stared up in shock and naive wonder at the roaring bird in the sky that was sending trails of cloud in its wake.
They saw their mama, smiling, walking down the street with a basket of groceries. They bounced up and down, yelling and pointing, braids swinging in the air: "Look, Mama,, a magical bird in the sky!" Wouldn't Mama be amazed?

They saw Mama look up, her eyes widen in shock, panic skew her face. She grabbed them by the arms and pulled them to the ground. Her face was tightly drawn and whiter than they'd ever seen it. "Get down from there! Come here! What are you doing? We can't let them see us!"

They lay, belly-down, on the stone pavement, huddled against Mama's shaking, shuddering body, wondering- what is scaring Mama like this? Could it really be our magical birds?
How could anything scare Mama?


***


By now, I'm seven, and Malka has moved with Toby and Aaron to a duplex in New Jersey. We don't visit frequently, and anyway, by now, visits to Malka have somewhat lost their charm. Malka has diminished, shrunken, and will no longer sit on the stairs with me and eat a chocolate biscuit. She will no longer go out with me to pick flowers. She only sits on the couch and tries to talk to us, but loses her train of thought, and usually just ends up sitting, staring vacantly into space and occasionally saying something under her breath that we can't make out. It's strange- why can't she remember what we were just telling her? And why does she look at us so weirdly, like she's trying to memorize our faces? Doesn't she know our faces?

So we kids stay upstairs, in Max and Nikki's room. There are loads of cool toys in there, and it's more fun in here than downstairs with a bunch of grown ups, especially with one like Malka.


***


The Germans were on the verge of entering Wyszkow- the knowledgeable ones knew that it could happen any day now, that the Germans wanted the bridge on the river Bug and, for some reason, wanted the Jews. That was one part nobody could figure out.
The village school closed, and the children were kept inside by fretful mothers, worried about what might happen in only a few hours' time. Men no longer talked after prayers while folding their prayer shawls- they muttered a greeting to each other as they dashed home, not wanting to risk being separated from their families should something- happen. There was no play by the river for the children, and mothers were too preoccupied to bake cookies.
Hershel, Malka's teenage brother, came home one day with big news, the talk of the village. Someone rented a truck, at an exorbitant price, to take Jews to Warsaw. It should be safer, being in a big city. The Germans won't notice us, might not bomb us. Mottel said no- there is no money, and nothing for us in Warsaw. Why should we leave all that we have here?

As it was about to pull out, Malka dashed out and threw her children on the flatbed. Her children would make it safely out at any cost. It wouldn't matter what she'd have to do to help them survive- just as long as they were with her and safe.

She clung to the back of the truck, easing herself into the flatbed as the truck hurtled along the road, sixty miles to Warsaw. She watched, struggling for footing, as her town vanished behind her for the last time.


***


We are sitting in Toby and Aaron's new house in Fairlawn, New Jersey. I'm eleven. I'm too old for Max and Nikki's toys, or so I decide, so I sit in the living room and my gaze shifts to Malka.


Malka is drifting. She stares into space, and talks in Polish to someone. It's not Toby, who listens and clucks her tongue sadly, shaking her head. I don't know who it is. Who is she talking to? There is such a longing look in her eyes.

She doesn't see me when I walk by. I am invisible. She doesn't know me, she doesn't know I'm Denise's daughter, Michael's granddaughter. She's in her own world. And that's not okay- that's not right.
Mommy has explained dementia to me- that Malka is losing a lot of her memories and her brain is getting weak. It didn't sound so scary at home, but now it does. Now I SEE that she doesn't know me, and it hurts. She should remember me. I'm there. I am a part of her life, a part of her. Why doesn't she see me?

We finally, finally leave. Malka stands up, urged by Toby, eyes dull and cloudy. She walks to the door and gives us each a dutiful peck on the cheek. A soulless kiss- automatic, by rote, from someone who does not know who I am.

Before I step out the door, coat zippered against the chilly wind outside, I feel Malka's breath on me, her voice rustling in my ear. It is the last thing she ever says to me.

"I love you, Chanale."

I glance back, and she looks at me, lucid once more, for the last time.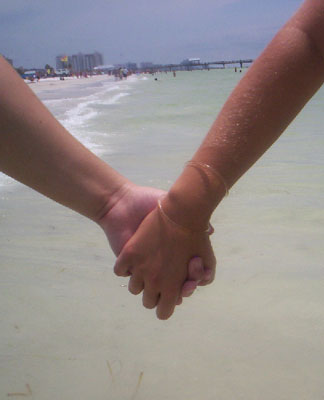 © Belinda H., Palm Harbor, FL