I Can't Write Anymore
May 20, 2013
I can't write anymore because. You see! I can't even think of a clever reason.

It's the anxiety, again.
It's crawling back.
It's slowly winding around my fragile lungs; and they aren't fragile because I'm pretty in any delicate way, but because they must be for the fact that anytime I try to speak the words come out much more quietly and cracked than I expect them to. I don't know why this happens but it never fails.

What scares me too is that I don't know what will save me anymore. I mean, I dream up these big schemes of a life filled with much coming-and-going and very little staying, in places too beautiful to name, but the logistics are beginning to scare me.
They show us charts on college degrees and money spewed different colors on graphs with type too small to read and it all makes me very, very sad.

They project any life you can imagine. They predict how much money you will make and how employable you will be and how close your life sits next to the average life, and more times than not it's right on, it's the same spot, you living the exact same life as a thousand other people.

I look for a way out. I look for loopholes in the margins and back doors in the columns. But I find none. Nowhere on any of the charts is a sunny field with long grass and little blue flowers. The room starts to get really small.


The same ferris-wheel of fears spins endlessly in my mind, reminding me of all the things beyond my control that make me want to drive a thousand miles to the ocean and just keep swimming forever.

I write in too many words that are disguises for other words lately. I'm trying too hard. They're mostly cheesy and bad. I should think more simply because it's turning into piles of pretentious bullshit like everyone else's.


I can't write anymore.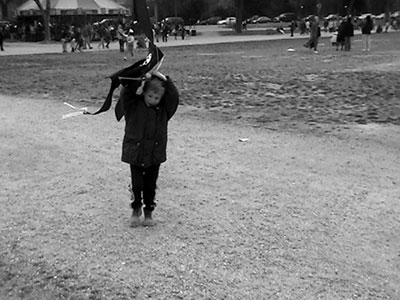 © Nina S., Arlington, VA