Barefoot or In Heels
March 14, 2013
Tall is good. Models are tall. Presidents are tall. Successful businessmen are tall. Tall is power. I am tall. Tall is awkward— for a woman.
When I stand in a crowded elevator and realize I tower over the other girls, I wonder over my lack of dates. I wonder about a correlation. If I were a few inches shorter, perhaps I would not be alone? Perhaps people would not look at me when I entered a room. Perhaps I would fade into normality?
I am not normality.
Really, I'm not that tall—just under five foot nine. Many men are taller, but I am a woman and the average Canadian woman is 5 foot 4, says Macleans.
It is awkward, standing in a room, in heels, and realizing that I am the tallest women—the tallest person. None of the guys talk to me, until I sit down of course, and they can't tell. Or is that just a correlation too? Maybe I should dress more like the other girls. Maybe I should leave my colours behind and trade them in for a little black dress and ballet flats.
That would be funny, me in ballet flats. I'd look like a woman pretending to be a child. I would be yellow rose masquerading as a black tulip.
I could straighten my hair, put it up, or try and curl it, but it will always fight, so I let it hang loose. It is natural. I am natural. My height it natural. I go barefoot when I like, because that is natural.
Tall is awkward. In that awkwardness I find my confidence. Because I am tall, I have no choice but to be different. Difference is freedom. I am tall and therefore I am free to follow the paths I choose—barefoot or in heels.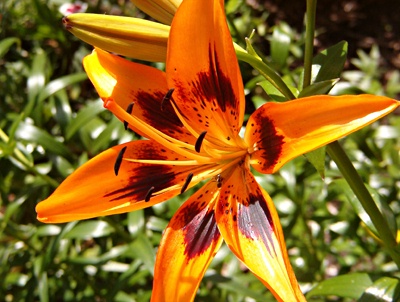 © Terrin C., Humboldt, IA