Cabo 2011
March 12, 2013
It was a hot summer day in the city of Houston, Texas. All of my family on my dad's side was running to the gate inside the airport. We were running late because "You have to look good on an airplane," said Tracie. Tracie is my dad's fiancé. She has two kids one named Tucker, who was about 9 years old at the time, and another named Geraghty, she was about 13. My brother Blake was with us too; he was 18 at the time, but my dad wasn't coming for another day. It was our first year going all together to Cabo San Lucas, and we thought we were going to miss our flight. Tucker was fussing about how he was hungry and that just annoyed Geraghty and I. It turned out that we made our flight, thank God, because if we hadn't made it, then I wouldn't have such a wonderful story to tell you.


Well, on the plane Geraghty and I thought it would be a great idea to listen to our iPod even though we didn't have any head phones THE entire four hour flight while giggling and laughing about we don't even know what. Whenever we landed, I was looking over the shoulder of a huge black lady that sat in front of us; she was texting her husband that she had just landed and that the flight went well except for the "annoying ass teenagers who kept making all kind of noise." I told Geraghty, and we laughed even more. All of us got off the plane and said goodbye to our cell phone service for two weeks.



It took what felt like a billion years to get our rental car ready to go. I had the front seat because I wanted to take pictures of the scenery, and I only freaked out at Blake for trying to get it. Everything was so beautiful; it was perfect temperature, about 88 degrees, and the sun was out. I couldn't wait to get to the hotel and put on my swim suit. The hotel we were going to was called Playa Grande, and when we got there it was so beautiful to me. The main entrance was beautiful; you drive up and there is a covering for your car, and under it there was a gorgeous fountain and two fire pits. On the right there is a mini golf area and directly ahead of you, paradise.




After about an hour or so, Tracie finally got us checked in, and we had the club area. When you got to the club area, there was a three pools, hot tub, two bars, and a mini snack area. I could help but notice one of the pools had a water slide included, and I was ready for that to happen ASAP. After walking past that, I wanted to say screw it and just jump in the pool right then and there, but I knew I couldn't because I had to get "settled in" as Tracie said. After walking past the pool area, we had to go down through this twirly area that was big enough so golf carts could pass through and then take a left and then make a right into our room. It was so beautiful, Geragty and I went straight for the bedrooms and jumped on our beds, claiming our spots. Tucker kept saying words that we ignored about how it was unfair, and Blake was just being annoying and trying to tell us what to do, like always. Geraghty and I don't really care about what he says whenever he tries to act like our dad. We immediately shut him down and decided he gets the pull-out bed. We put our swim suites on and went out to the pool area, ate a little snack, had fun with the pools for a couple of hours, and then when it started to turn dark, we went inside and showered up for dinner. Geraghty and I put on our outfits and made Tucker take pictures of us. When we were taking pictures downstairs we got scared because there was this man who kept following us and staring at us taking pictures. After we got way too creeped out, we ran all the way back upstairs. Then we went to dinner and I thought everything was really cool and pretty. That night, Blake and I had a huge venting session.

The next day my dad got in and had a good ole time just going down the water slide and chilling at the pool. We went to the Santa Maria beach where Geraghty lost her swim suite top, and Blake and Tucker had to be rescued by local surfers from climbing the rocky hill because the tide was coming in soon. That night we went to dinner that night at the Crazy Lobster in town then went to sleep.

We went to the Sleepless Lobster the next night and my, oh my. Tracie had one too many margarita's and got a bit too drunk. Geraghty and I were over hearing these men saying they wanted to actually rape these women that were across the table from us and were planning how they were going to do it. We got really scared, and we didn't know what to do. Geraghty and Tracie got into this HUGE fight, there was yelling and crying. At the end of the night, Geraghty didn't even want to talk to Tracie. The next day Geraghty apologized to her mother, but Tracie didn't even remember that there was even a fight, which made Geraghty really upset.



We finally had moved to our next hotel called Pueblo Bonito Sunset Beach and my brother, John, finally got there with his girlfriend named Tash. Pueblo Bonito Sunset Beach was THE prettiest hotel I have ever been to in Mexico. There was five pools in all, two Deli's, a shopping area, two restaurants, a church, room service, and the best part was golf carts took you everywhere. The entrance, however, was on this huge mountain, so it took forever to drive through, but it was so delightful to look at the scenery.


John became so obsessed with my camera I just let him take it out sometimes because he was just so fascinated by it. Poor Tucker and Blake had nowhere to sleep, even though we had the presidential suite. Most nights I let Tucker sleep with me because Geraghty didn't want any one to invade her space, but Blake just slept on the sofa bed as always.


Some days were a big wonderful blur of just hanging out at the pool and going to the beach. One day we decided to go the the Hotel California, and even though that sounds very interesting, it just isn't. There was no air conditioning at all, now I think back on it, I actually did like it, I just didn't realize it at the time. Geraghty and I explored the hotel, but they would not let you go in past a certain area which we thought was really aggravating.


Geraghty and I went and got some ice cream and sweet little Tucker went and bought his dad a gift. It was a tan fishing hat that said "Hotel California" with a sword fish on it. Geraghty criticized it. I told him I though it was really cool and his dad would love it. We explored churches and went all through the little town and even ate lunch at this little hut place. My dad insisted in going there, and all the girls were disgusted at the outside bathroom. It was an hour back all the way to our hotel, and I swear me and Geraghty had no alternative other than going absolutely insane. We had nothing to entertain ourselves, so I guess what we just got really delusional and started laughing at anything and everything.


On one random day we decided to go to the Pueblo Bonito Rosa Beach which is basically the sister hotel of the Pueblo Bonito Sunset Beach. We went there because at our resort it was not safe for swimming at all. People have died there before by going in the water because it is an immediate drop off of a hundred feet. The Rose Beach goes on for a while with resorts, water toys to rent, and restaurants. Blake, Geraghty, Tucker and I wanted to go banana boating at some time. While we were signing up, Tracie insisted that Geraghty speak Spanish to this man and was saying that Geraghty knew how to speak Spanish fluently. Geraghty got really mad at her mother, started to yell at her, and then started walking back to where our stuff was resting with my dad. Blake had to go chase after her and make everything okay again like he always does.


We finally got on our banana boat, and just by getting on it, I could tell I wanted to get off of it as soon as possible. It was scary because it was in the big, huge ocean. The man in the boat flipped us on the banana boat next to the tree arches which is the most dangerous place to flip children because there are manatees around that area. Well, a manatee swam right under us when we flipped and I got myself on that boat so fast. It was safe to say I was having a mini panic attack. After that, we went straight back to the beach where there is ground, sand, and no mysterious creatures underneath me.


We all walked back to our sitting area after I told Tracie about how I was scared half to death. All the kids, including myself, then got in the water and just hung out. The waves were getting pretty big, and me and Geraghty got out of the water for a minute to get a quick drink of water. We talked to Tracie for a second on the way to get water and we were facing the ocean water. All of a sudden, Tucker was bending over on the shore then gets up, and there was a 20 foot wave inches away from hitting him. Tracie started running for him, but she was too late, and the wave took Tucker on to shore even more. Geraghty and I could not stop laughing our butts off, and Tucker was crying so we tried to help him, but we just couldn't stop laughing. A few minutes later Geraghty goes in the water so Blake isn't alone, and a few minutes later I start walking to the ocean to join them. I see this huge wave and Geraghty's head just getting over it while Blake is stuck in it and slammed back first onto the ground. I fell on the ground I was laughing so hard and Geraghty was basically drowning in the water because she was laughing as hard at how she made it over and he didn't.


That night we went and ate at The Office. It's a fun place on the beach and on that night there was a D.J. as well as a dance floor. Of course, there is always that one person on the dance floor, who you know is really drunk, and you can't help but stare at them and laugh at everything they do. On this night we called the lady "Polka-Dots" because from where we were sitting we only saw her crotch and some polka-dots on her dress. Blake thought he was so cool by ordering a beer and Tracie just got extremely drunk so she was just being really giddy. We celebrated Johns birthday and he bit head first into his cake.



The next night was our last, and we had a really nice, fancy dinner at the nicest restaurant in town called Edith's. It is a really pretty restaurant with hanging lights everywhere. We all had a fabulous evening filled with laughter and flashbacks of the trip. It was one of the most fun trips I have ever been on.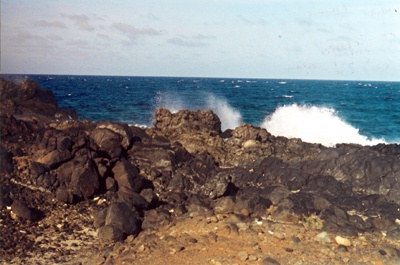 © Matt A., Smithfield, RI