I am not Delilah
February 26, 2013
My name is Rachel.

My mother wanted to name me Delilah.

In the bible, Delilah is the temptress who defies Samson and cut off his hair. She tricks him into revealing his secrets, and then sells him out to the enemy. Rachel is the beautiful wife of Jacob. Jacob works 7 years for her hand in marriage, only to be betrayed by Rachel's father; who switched Rachel with Rachel's less attractive older sister Leah, and forced Jacob to work another 7 years to marry the woman he loves.

I always preferred Delilah's story to Rachel's. Rachel seemed weak and passive while Delilah was powerful and tough. Rachel stood by and allowed her father to marry her older sister to the man she loved, while Delilah rebelled against expectations and thought for herself. Delilah was the strong woman I wasted to be. Rachel was the pacifist, the one who went down without a fight, and the girl who never stood up for herself. Rachel allowed her father to trick Jacob, and I hated her for it. I hated my name.

But then I reread both stories.

Delilah doesn't really think for herself when she cuts off Samson's hair. No, she's following the orders of the Lords of Philistine, who offer to pay her eleven hundred pieces of silver to rid Samson of her power. Delilah isn't an honorable woman. She betrays the man who loves her for money.

Delilah isn't strong. She gives in to the temptation of riches instead of doing what is right. 'Delilah' in Hebrew means someone who is weakened, uprooted or impoverished. Delilah is weak.

And Rachel, whom I once thought was passive, is strong. Rachel stole her father's idols as payback for years of bullying, and to ensure that her beloved husband became leader of the tribe. Rachel lied to her conniving father to protect the safety of her family. Rachel stood up for herself, and out-witted her devious father. The literal translation of Rachel into Hebrew is ewe or female sheep, but idiomatically it also means 'one with purity'.

Rachel is strong but pure. Unlike Delilah, she trusts the people who love her, and knows who to be careful of. Although both women lie, Delilah lies for her personal gain while Rachel lies to protect the people she cares about.

Though Rachel doesn't physically fight anyone, she uses the power she has to accomplish what she has to. She believes in her own strengths, and uses them to her advantage.

In my life, I will strive to be like Rachel, and accomplish what is right by using what I have. I will not by swayed by claims of money or fame, and I will stay true to the people I love.

Because in the end, it isn't Delilah with her trickery and brute force who is the strong one; it is Rachel, with her powerful love and trust in herself that will prevail.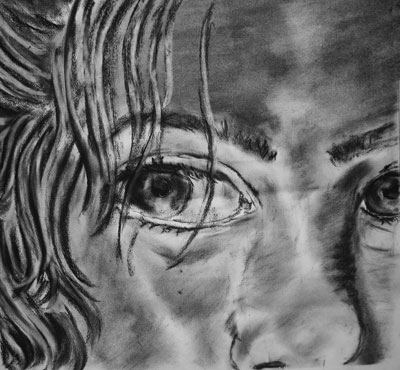 © Brooke W., Weston, MA