Of Water and Sky
October 14, 2012
The first breath is the sweetest; coils of fog wind up from the silent water, staving off the ripe heat of summer just for now, and they permeate the air with the clear scent of dawn. In a strange reversal of last night's rainfall, they rise and weave languidly along the surface, almost so dense as to bear the tread of tentative feet. But mine are drawn up against the underbelly of the old wood, communing with the dock spiders.

I lean out over the rippling gray, hands clamped onto the edge, binding me to my snug little perch above the wet. Some other hour, some other day, the wind might coax a rogue wave to leap through the slats on which I rest, but now the water lies undisturbed, having not quite shaken itself free from the weight of sleep. For now I am safe, wrapped in this moment that belongs expressly to the scattering of thoughtful souls who have wandered out of bed steps ahead of the sun. Separate from the vibrant rush of day on the lake, it is a moment woven from the pulse of rocking runners against someone's porch floor, the broken cry of drifting loons, the glow of color that seeps through the cold gray above.
Somewhere, a lone kayaker's paddle dips, drags the water into rapid swirls on the surface, and lunges forward again, flinging hushed drops behind it.

It's tangible: the waiting. But I can be patient.

A wave folds across the surface, rising almost to brush my bare toes, and the boats shift restlessly in their makeshift moorings. The water rolls onto shore, slapping and sucking at the rocks that ring its edge, the familiar sound of any gust of wind sweeping across the lake. I lift my face to it, but this breeze was fleeting, the lake beneath me already regaining its peaceful façade. The best things are always ephemeral.
Even here, even now, it's not my last summer, but it could be. And yet at the very heart of its evanescence lies its beauty. I settle back on my palms and I watch and I dream, cradled in that nameless expanse between the lightening lake and the rolling sky. I only have moments, and somehow, I don't mind.

My little world, brilliant and delicate as glass, shatters in the sunlight. From the cottage rises the inviting clang of pots and cutlery, drawing the telltale rumbles of hunger from their previously subdued state. Across the lake, a dog barks. And before me, its waters suddenly winking and bright, Pushaw has woken.

The damp hem of my pajama pants sweeps and catches at the needles of a Maine pine on my way back up the stone path, a little trace of me left behind in the wet streaks.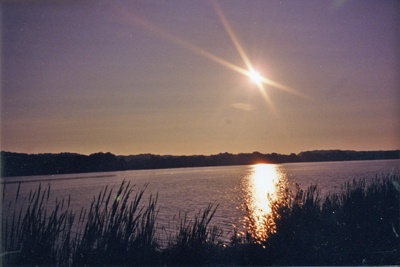 © Gabrielle C., Struthers, OH