A Hero Beyond the Cape
June 28, 2012
I remember very many years ago that I saw a fire break out across the street from my school.

I was in a Catholic school at the time, and I was sitting through a relatively dry lesson the teacher was giving us about something we've learned about twenty times before. Then I noticed a few heads were turning away from the teacher. The teacher, of course, knew this as well.

"Hey!" she yelled. "When I'm teaching, that means you're paying attention!"

One of the students turned to the teacher, with a look of both awe and shock. "There's smoke across the street!" the student yelled. "There's smoke across the street!"

Of course everyone, including me, lined up at the windows to see what was going on. Through the window, we could see the parking lot and about fifty to a hundred feet north of the parking lot (from where we were looking from) was a set of boarding houses. We could see the boarding houses through a thick cloud of gray smoke we could also see flames dancing on the roof of the middle house.

Many of us gasped in shock at what we were seeing. My teacher, who was standing behind us, also gasped. Concern shot through my body like a bullet shooting through wood. I hoped that the people in the houses were alright. I hoped that the firefighters would come soon to help extinguish the flames.

Then we saw something amazing. One of the kids told us to look down and we saw three of the school's janitors (all former fire fighters) run straight into the cloud of smoke. I smiled and hoped that the janitors would save some lives.

After a few minutes of standing by the window, the teacher told us all to sit back down and we continued our boring lesson. But I couldn't pay attention, I was too worried about the janitors. I was also thinking about how brave they were to put their lives on the line to save others.

It wasn't until the later, when the school found out that the janitors saved a total of four lives from the fire. The janitors were very modest and they said, "We just did what we felt like we needed to do, what we had to do."

They were heroes. It proved to me that day that you don't need a cape to be a hero. Three janitors took over that job and out came great pleasure in helping others. They are an inspiration and I don't think Stan Lee could think of a better hero than the janitors.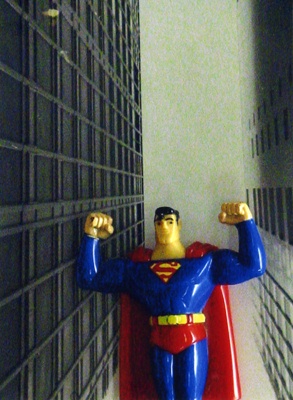 © Andy O., Highland Village, TX