The Place Where I Lived
June 15, 2012
Imagine a quiet deserted land, palm trees waving with the slightest push of the faint wind, and the feeling of emptiness filling one's heartbeat when walking down the neighborhood street. It is an eerie feeling almost, children rarely playing in the streets and couples confining themselves to the tiny realms of their homes and television sets, blaring as if a honking car through a broken window. Often the sky is a vivid blue, and through my bedroom window, it would almost seem as if our neighborhood was a still picture, painted by a careful yet crafty artist that has placed everything in a single, steady place.

It was for this reason that every day, right after school when my mother dropped my weary brother and I home, I would go to my secret place in the neighborhood. After a long day of mathematics and history or long lectures on cell division or mi-to-sis and long karate sessions of hitting punching bags absent-mindedly, I often came to this place for relief from the daily anxieties that students often encounter.

This land was my social life, the very essence of my writing; it was the breath of relaxation that allowed my squeezed trachea to let air flow in again smoothly after hours of deprivation. Here was a place of utter stillness and movement, a contradictory paradox that much amused me. It was a place of seeming ugliness, lacking homes or beaten paths, but also a place of complete beauty of untouched nature.

Truthfully, the area itself was no secret. It was in open daylight, near a lane for cars trying to turn right into our neighborhood community. Regardless, however, the land itself had contained a secret, almost mystical, in itself. It seemingly beckoned to me, whispering into my ears of the wonderful ideas that would come to my head in forms of writing poetry, short pieces, and philosophical ideas.

At precisely 6 o'clock on Friday evening, I would venture out of the house, always drawing awkward looks from fellow neighbors, and went unto the area, a complete transformation waiting for me.

It is always the same and yet is always different (the irony was always rather intriguing). The sky awaited me with open clouded arms, now changed from the solid lurking blue above my bedroom window. New hues were added into the sky's master design and bright pinks etched themselves across like a woven tapestry. Each time was different, but one thing was always sure: the sky would always change to brighten and intertwine itself into the web of my own feelings.

The stalks of grass were never cut in the area, allowing the soft branches to lightly brush against my bare legs. I always reached out my hands to them, letting go the thoughts of standard deviation or proper arm techniques or the date of the fall of Constantinople. The field too was ironic: at a single glance, the ocean of silver grass would appear the same to the untrained eye. However, I often would come close to the grass and pick the purple lavender out with trembling fingers. It was a comforting thought that the ocean of grasses had so many individual plants of different colors, textures, and smells, and yet together, a beautiful and colorful portrait was painted.

Through my experiences with the land, I was able to relate it back to school when I returned home. It was as if the very experience of my disillusionment that I was able to return to reality with a clear and open mind, ready for the next day's illusions.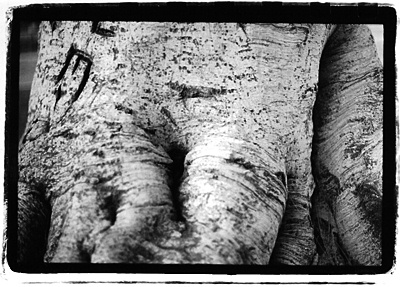 © Rebecca W., W. Hollywood, CA