'Circular Motion is...'
May 10, 2012
Flabbergasted, I picked up my bag and huddled to the backmost seat of the class with drooped shoulders and jostled myself on the chair right after Sir Ronald shrieked in his throaty voice, "Komal, stop talking now! Anum, go to Komal's seat" - at which I gasped.
"Komal, come and sit at the front" he added strictly and continued his lecture. She unhappily took my most favorite front seat and I so despondently took her back seat. Her favorite seat, I guessed.
Exactly a minute after I sat down, I gulped a mouthful of water and tried to regain my lost concentration on Circular Motion. I was half-playing with the tinted black pen in my left hand and half listening to Sir Ronald's lecture when Rehan, my classmate who sat a couple feet ahead of me, spoke mutely to me after turning himself slightly around, "Did you finish your project on Beta-Thalassamia?"
"What?" I replied while gesticulating with my hand at the same time in a confused manner since it was tough for me to figure out his voiceless whisper.
"Beta-Thalassemia" he emphasized.

"Oh" I finally got it. "The deadline is extended. I'll submit it next week" I whispered, pausing on every uttered word.
He just smiled and turned back to look sleepily at the white board again.
As soon as I broke off the silent conversation with him, my eyes met Bareen, a friend sitting two rows next to mine, smiling to herself – totally indulged into something no one in the class was. I tilted my neck to get a closer look at that 'something' and my eyebrows naturally shrank in an attempt to do that. I then realized she was furtively, and so meticulously, looking at the party pictures. She had a digicam on her lap.
Bless me God. She was doing two works at a time. Multitasking: pretending to listen and note down the lecture and enjoying the pictures at the same time. While I was busy thinking this all, she suddenly looked up at me, brought her right index finger to her mouth and uttered, "shh" as if signaling me to stay quiet. I blinked, and gulped. And smiled tautly.
I eased out my neck finally, and sat in a relaxed position when I heard the clicking of buttons all in a full row. Tick. Blip. Tick. My ears don't betray, I thought and tried to calculate exactly where the sound was coming from. It was behind me. I turned around.
"Hey, what's that sound?" I quipped to Kapotaqkhy, the friend seated right behind me and busy with something under the desk. Surprised, she looked up and laughed impishly. The next second, she handed her cell phone to me when Sir Ronald was busy writing on the board. I laughed too. The screen said, "Sorry, textin a frnd. Dnt tell any1. Plz."
After I finished reading, she pulled the phone back.
"All right. But your cell phone makes sounds." I warned in a whispering tone.
She typed on the phone and showed me the screen again, "dnt worry. It's jst dat u'r sittin close to me. Others can't hear :P"
I looked up at her and condoned.
I finally click-opened my pen and started to write down the lecture. Hardly two minutes had passed when I inhaled deeply and moved my head in a slanting position, and yet again my eyes accidently fell on Sabreen. She appeared too busy with her eyes frozen on her lap and her head rigid in a sloping position.
I moved my chair a bit forward and surreptitiously glanced at her lap on which, I finally saw, lay the Breaking Dawn by Stephanie Meyer. Her pupils followed every line on the page and she turned to page 242 now, looked up for a moment to Sir Ronald and nodded as if grasping every word he was uselessly saying. After she turned the page, she got lost in the book again. She really was busy, I concluded and resumed writing while tolerating the clicking of the cell phone buttons from my back.
Those next 30 seconds were indeed a peaceful plethora of time when "Trinnng", the bell rang indicating the closing of Physics lecture. I peeked up at Sir Ronald but he was already out of the class.
I, so really now, realized how the class looks from that angle, that back-bencher's angle. My whole time wasted, and I sat there, silently regretting it all to myself when the whole class busied itself into loud chatting and giggling, inclusive of Komal, who so proudly sat at my seat now. I sat there – sat, and now concentrated on the only three words I was able to note down in those 45 minutes - "Circular Motion is".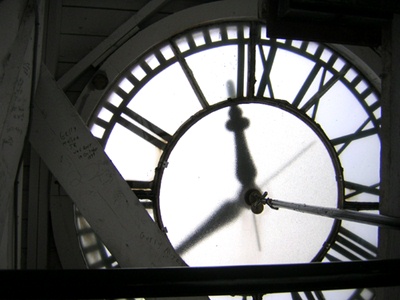 © Tatyana Z., Norwood, MA