Sparky and Spike
January 16, 2012
All throughout my childhood, drawing was my escape from the lonely world that was my reality. I was the smallest kid in my class, always had been. By the time I left elementary school, failure at the simplest tasks had become an old friend. I failed nearly every subject and couldn't play any sport on the planet to save my life. There was only one thing that satisfied me, and that was simply to make art from a blank paper and a pencil. Drawing, it seemed, was my one real talent.

But no matter how much I loved drawing, or how good I was at it, the kids at my school didn't care. If you couldn't hit a home run, kick a field goal, or win the national spelling bee, you were a nobody. So that's who I was. A nobody. I know everyone has certain days in which it seems like only your mother loves you, but for me, the feeling prevailed throughout all my youth.

Somewhere in those desolate school days, I adopted the nickname "Sparky" after the cartoon character, Sparkplug. Sparkplug the horse was from the 'Barney Google' comics, and happened to be my favorite character to draw. A normal day for me was to walk down the halls and hear "Hey, Sparky- how's your horse?", but a good day for me was to go through all seven hours I had to be at school and not have one word spoken to me. Some days it seemed like no one could ever want to talk to the unintelligent, athletically handicapped class loser. My only friend, it seemed was my Beagle, Spike. Spike was a loser, too. He ate the most unusual things, like pins and tacks, but even he seemed to lead a more interesting life than I did.

Somehow, I made it through the teasing, homework and social cliques that came with junior high and high school. My lack to comprehend any school subject didn't leave much room for a career as a lawyer, banker, etcetera, etcetera. Those things didn't interest me, anyway. My dream was to be an artist.

So I got to work. I sent comics to big-time companies like Disney and submitted my ideas to well-known newspapers. With each letter I received concerning my art, my hope that someone appreciated my gift was dashed by rejection after rejection. It seemed to me that I was alone in my world.

For so many years following my high school graduation, any hope that I could ever be seen for the artist I was, or wanted to be, dissolved. This was my life. Alone, underappreciated, and overlooked. Nothing would ever change from my childhood days. I was still "Sparky", the loser with no intellectual talent or athletic ability whatsoever, and I always would be.

In one last attempt to publish my comics, I played out my youth through my drawings. My main character was as I had been- friendless and ungifted. I gave him a dog, but just like Spike, his pet was cooler than he was. There was his annoying little sister and the talkative loudmouth girl who never seemed to stop bragging. Soon I was lost in my talent, reliving my sorrowful school days and creating all the characters with whom I had grown up with.

My comic was published. The whole country seemed to fall in love with my character, Charlie Brown. I couldn't believe it. I was finally famous, and all it had taken was to create a story of my life. Drawing more and more comics, my skill became more and more in demand. And on each comic strip, I happily signed my name. I wasn't Sparky anymore. I was who I always had been inside- Charles Schulz.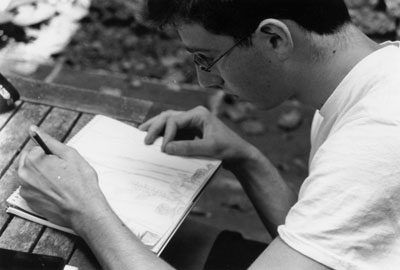 © Kira L., Bethesda, MD