Full stop.
January 5, 2012
Unburdening myself from all that keeps 'cooking' in the kitchen of my cerebral lobes, I sit down tonight and pen down my short comings. The then-empty page is now over-filled with the listing and I am so compelled to fill the marginal spaces with my hardly legible writing.

I lose so much in life, I conclude while absorbed with my new discovery of lagging so much behind in life. I then tear off another page from my diary labeled with "My To-Dos" and start writing ways I can overcome my listed shortcomings. I doodle more and write less on this page. Soon, I find myself at a loss of ideas, and of words. My cerebral lobes start functioning at a random state and the burden rebuilds gradually.
Things start 'cooking' haphazardly in the kitchen I call my cerebral lobes. I think, write a word, cut it with a broad streak of pen, rewrite it, sigh and cut it again.

Holding my pen tightly, I give up writing the solutions. I finish with writing "I shall overcome" at the bottom of the page although the space left was too scanty due to my foolish doodles. Eventually, I place a prominent full stop.

After I place the pen aside, I put both papers (the shortcomings and solutions ones) side by side in front of me on the desk and gape blankly. Mindlessly. "All burden on the paper" I smile, place my head on those papers in a leaning position and close my eyes. A long, silent minute had passed and I concentrated at the darkness of nothingness with my eyes closed as if fighting an ongoing battle inside my very self.

Time up, I tell myself. I wake from the half-torturous and half-pleasant nap and tear both papers without knowing myself why. I keep folding, twisting, tearing and shearing them until they become too tiny for my agitated fingers to tear anymore. Holding them aimlessly in my hands, I smile idiotically again having wasted so much time.

Better keep this all burden in my lobes – at least it's where it all keeps 'cooking' and there's practically some progress. On the paper, it's lifeless. It's still. I conclude and my fists clutch the torn pieces tightly. Not wasting my time anymore, I leave the chair, abandon the idea, discard the rubbish I created tearing the papers from an important diary and get back to being busy – or the least, pretending so. Burdensome life, but perhaps that's what makes me human.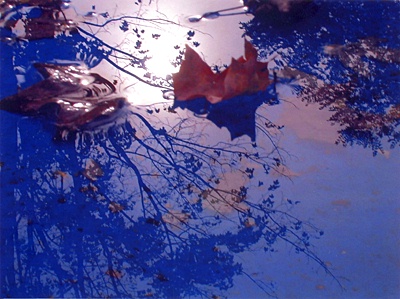 © Angela B., Holland Patent, NY