A Summer Goodbye
October 18, 2011
It was a hot and sticky September day. I rolled out of bed, ate a delicious breakfast, and got ready before my friend, Hunter, came over. As I descended the stairs, I heard my mom's faint call, "Hunter is here to see you!" I quickened my pace and was out the door in a flash.

Hunter and I wanted to cool off, so we threw on our brightly colored swimsuits and turned on my purple dolphin sprinkler. We printed through the ice-cold water until our legs got sore. After we dried off, we went inside and ate fruity Popsicles until our tongues were so frozen we couldn't taste the Popsicles anymore.

I laid down and was deep in thought like an artist about his next masterpiece. I was craving neon superman ice cream with fluffy whipped cream and a bright red cherry and decided I had to have it. Hunter wanted to swim down at the sand beach. So, we each did what we desired.

I departed for scrumptious ice cream with my mom in her navy blue Cutlass. Hunter, on the other hand, left with his grandparents to the beach. My mom and I were riding around eating our ice cream when we ventured by the beach. There was an ambulance parked with its red and blue lights flashing.

My mom turned the music down and pulled over. Everything was going slow-motion like it was a horrible, endless dream. I watched as she opened her door slowly and stepped out onto the soft carpet of grass. She just stood there watching like a little girl at her first circus, then finally started towards the scene.

When she reached the crowd, she found Hunter's grandparents with solemn-looking faces. As they talked, a look of despair slowly crept across her face. My mom turned around to walk back and I put my sticky, melted, mess of ice cream down on the floor.

As she strode slowly, she stared insistently at the ground. After what seemed like forever, she reached the car. She glanced up, and I saw in her face that something was dreadfully wrong.

She sat down gradually in her bulging, red seat. We sat in silence for a moment while she chose her words cautiously. Words rolled across her tongue but none were said; it was as if the wrong thing was said, the world would come crashing down. Finally, she whispered quietly and delicately, "Hunter was swimming when a wave knocked him down... He's dead."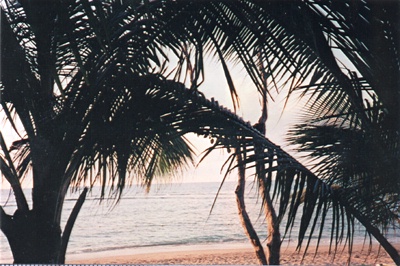 © Allison L., Abington, MA