An Angel
October 12, 2011
I could hear the screeching of her walker on our linoleum kitchen floor, probably making her way to her favorite navy green chair. She'd be turning on her General Hospital episode that's blasting a volume of 47. On her flowered-cream sweater would be a food spilling that she has tried to wipe off, but had no luck. She also could be asleep in her chair with her head tilted back and snoring. Even though she doesn't seem like the best person to be influenced by, she's more of an influence than Thomas Edison. My grandma teaches me her ways of life, she can put someone in a better mood before you can say the word blue, and she's also the strongest person I've ever known.
My grandma teaches me her ways of life in different ways like cooking and learning about God. My grandma taught me how to cook her famous macaroni and cheese. She's always made it for me when I was a little kid and I'm glad I still have it today. She also taught me how to make her favorite, blueberry muffins. I eat this about everyday of my life because they're probably the most delicious thing that has ever been eaten. Occasionally, while we're cooking whatever food we decide, we sometimes bring up topics about God. I don't go to church that much myself, so she's the only person I really can learn from. She's told me stories that are as long as two movies combined. I love it when she teaches me because we relate to each other more during that time than we do normally.
Secondly, my grandma is the fastest healer to a bad mood. Whenever I'm upset, she always tries to tell me a story of when I was little. One time when I was upset about a grade I had received on a test, she said, "You know what Kaitlyn, when you were just a little girl, you always used to investigate problems. If the TV didn't turn on when you pressed the power button on the remote, you kept pressing it. Even though you took a long time to figure out there was no batteries in it, I still knew you were smart." When she said that, I couldn't help but laugh. Her laugh is seriously contagious, too. Just the other day, she was telling my family and I how she had to go to this "woman" thing, and she didn't understand what the lady who worked there told her. She did more than enough, and the lady looked at her like she was crazy! She could hardly even finish the story without laughing. I swear, she's never laughed so much in her life like she did that night.
Lastly, she's the toughest person I know for one reason, and one reason only. Two years ago, around Christmas, she had been diagnosed with lymphomic cancer. She was always in the hospital, there wasn't many times we saw her. She started chemo, and lost all of her short, curly brown hair. My grandma isn't the skinniest lady either, so it was hard sometimes to get her to places. Before all this happened though, I was really mean to her. I regret it now, but I was a huge brat to her just because she was an annoyance to me. I prayed every night, and everyday for my grandma to heal from the cancer. She got better after a couple of months, but this didn't last. It was July of 2009, the cancer came back. She was even in worse pain than before. I don't know how she stuck through all this, and kept believing there was a God. She had such a miserable year. I still prayed and prayed, but sometimes I felt like she was getting worse. Around Christmas that year, the doctors gave us great news! She was finally cured. I was so happy to hear it, and I know she was too. I think she is the strongest person, physically and emotionally.
My grandma, is the best at teaching her ways of life, putting someone in a better mood, and being the strongest person through everything. She's now 85, and healthy as can be. She lives with me, and even though she can get annoying, I still love her with all of my heart.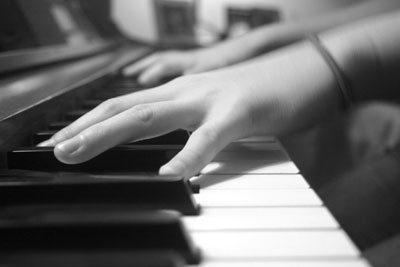 © Elizabeth S., Newton, MA