Hometown Summertime Prose
February 14, 2011
In my tiny desert town, which I specify because I have no experience of anywhere else, there are these certain summer nights. I don't know quite how to describe them. They are nights when the air hangs thick but not heavy over the town like a comforting blanket. They pop up out of nowhere, usually in the depths of July and August. They involve dull yet beautiful sunsets and sitting out on the cement stoop until it starts to be too cold. They involve listening to the hum of the Interstate. Wondering about where it would lead you could you follow it. Wishing you could follow it. Wishing you had that freedom.
So you picture yourself getting up at five a.m. and driving away in the family car with anything you might need for a three-week odyssey across the country. And so away you go, visiting every metropolis you run into. Feeling the bustling city life, such a contrast to your half-dead town. You drive on and on across the country, feeling the emotions behind "Don't Stop Believing." You remember every detail - the hum of the tires, the sun in your eyes, the glaring lights by night, the everlasting blacktop, and the odd combination of commercial and natural that is the Interstate. You write a poem at a table in a tiny roadside cafe somewhere outside St. Louis. You write a letter home from Denver and you send it from a post office in Omaha. You open your soul to the world. You are a wandering rover, a nomad, one of those people who were born to heed the call of the open road.
Then you return home, back to the summer, back to your dusty, prosaic hometown. And you veil your soul again. But another summer night will always come along. Perhaps not till the next summer, but they always appear. And you'll be off again, with your soul bared to the open road once more.
It never ends.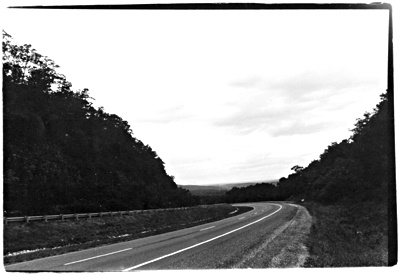 © Courtney R., Great Falls, VA