To Him Upstairs
August 18, 2010
Dear God,
I don't think I believe in you. I'm doubtful of whether I have. I go to church mostly for my mother's sake. I think the only thing that upsets her more than her family's lack of faith is the fact she is unable to convince us to believe the way she does – unconditionally.
Sometimes, though, I wonder if you do exist. For instance, how easy it is to 'pray' when I am in trouble or desperate. "Please God, please just do this one little thing for me..." But of course, my side of whatever bargain I promised you is forgotten as soon as I get my way. It's not intentional, but I guess it's rude all the same. Disrespectful. Unethical.
The thing is, if you were there – really truly in existence, would you not help me? Why would you put me through depression? Why would you give me such anger, such unbearable hate? I know, I know... free will and all that; you can only give us the ability to make choices, you don't make them for us. Well to be honest, God, I don't think that's very responsible of you. As our creator, as our shepherd, shouldn't you at least make sure we are okay? Surviving, if not happy.
Some would say that it is the near failure to survive that helps them find you, but all it's done to me is make me resent you. Why me? Why did I have to be the unhappy one? Only, I wasn't the unhappy one. I was the unhappy one in a million. Maybe even billion. I'm just another person whose life was ruined – nearly – by anxiety, fear, depression. Why let it be that way? Surely it is in your power to change this?
If it were your plan to make me realise my potential – that I could overcome this, all by myself – then why not stop there? Why make it happen all over again? I managed to pull myself out the first time, but that was beyond difficult. I'm not sure I'll be able to come back out if I sink again.
That's how it feels right now. I feel like I have pushed past everything – past my instincts, past my fears, past people who doubted me – and slowly, things got better. But it's like rebuilding a glass statue. It's fragile. One little knock and it's back to square one. If one teensy blip is all it takes to break my heart and soul into a million pieces again... how am I going to find the strength to get back out?
The thing I remember most from my depression is how tiring it was. To get up again day after day and wade through that dark fog... it was exhausting.
If you exist, why would you do this to me? Could you not have given me just one person who didn't doubt me, who didn't let me down, who didn't mock me? Depression? What was I thinking! It was just teenage hormones. Obviously.
I'm getting a little stronger each day, God, a little less anxious every time. But sometimes I wonder if the darkness can be contained. I imagine it as gas in a concealed container. It needs to get out so it pushes and pushes until it manages to open the lid just a crack – just enough to let the gas seep out. I imagine the depression seeping out of my breakable heart and poisoning my veins, reshaping my world with anger.


I almost hate the fact I got better. It makes it harder when things get worse.
So, if you're there. Please help me out. This is as close to praying as I can manage. I'm not going to bargain, or offer you my faith. I am not asking you to help me to prove yourself or anything like that. I'm asking because I can't bear the thought of hurting again. I need your help.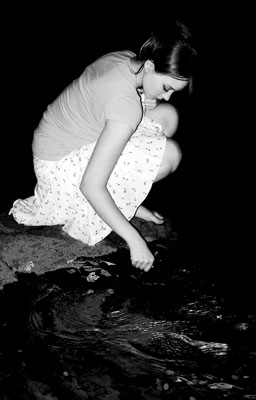 © Michelle B., Blairsville, GA