My Turtle Shell
April 12, 2010
I looked at her warily, wondering if I could trust her. She smiled at me, and I pulled myself deep into the shell that I had crafted around myself. During the past few years, it had grown thicker and thicker. Now, it was nearly impenetrable. Layer by layer, I had subconsciously crafted my pain into a barrier that kept me away from others and allowed to me survive.

Though I looked like a normal teenager on the outside, severe bullying and other challenges had left deep scars inside me. So many people had told me to "just get over it," but for me, it wasn't that easy. I couldn't seem to part with the haunting memories, the nightmares, or my suspicious, guarded lifestyle. The only place that I felt it was ok to be myself was with my family.

The woman I was looking at was the new vicar, or intern, at our church. We had both just moved to the area; we were both new. Yet, it seemed to me that there was an ocean of pain stretching before me that no one could cross. I was scared of her, shying away from her bright, enthusiastic eyes. I was terrified of trusting. She looked like a kind person, which, ironically, is what threw me off. Since she seemed kind, it would be easier to let myself slip and start trusting her… and I couldn't do that. It involved the possibility of even more pain.

I cursed myself, wondering why I was so weak. A battle of emotions raged inside me. Why couldn't I "just get over it," like so many people thought I should be able to do? I wanted to trust, I really did. To me, my shell was a symbol of weakness. After everything I had been through, I felt I should be stronger than I was. I wanted to break free. But if I did, I would become exposed, and then others might be able to see my vulnerability. I couldn't let that happen.

The pain of the past swirled around me, and I gave up the battle for the moment, letting my face fall into the steely mask that was now so comfortable. It gave me protection, it gave me power. I knew that while I wore it, nobody could cross me, and I vowed then and there not to put any piece of myself up for judgment or condemnation. I would be here, I would sit in this bible study, but I would not like it.

One of the first things that Vicar L did in our class was to ask us to share the high and low points of our previous week. This was so we could get to know each other better, and I was completely mortified. I felt like a hammer had taken a huge blow to my shell. Sharing anything personal was going to be next to impossible for me.

Glancing at Vicar L, my heart twisted a little. It wasn't her fault that I had been hurt, and I knew that I was going to come across as antisocial and rude. Although protecting the broken pieces inside of me that were only beginning to loosely stitch back together was more important than anything else, I didn't want to hurt anyone.

I sat with dread in my stomach, waiting for it to be my turn to share. I started physically shaking and actually considered running out of the room and never coming back. The first two events I could remember about my week were what I was able to squeak out. I hated the feeling of everyone's eyes set on my face and hoped to never have to do this again.

As my brother, who was also in the class, started sharing, I gazed down at my sweaty palms with fierce self-hatred. It had been almost two years. Why couldn't I let the pain go?

Although I didn't like it at first, Vicar L had us do the "high and low" sharing at the beginning of class each week. Little by little, I actually started to look forward to it and was disappointed on the rare occasion when she forgot to have us share. I was surprised by the fact that she really listened to what each one of us said. She seemed to genuinely care about each individual. Unlike many of the teachers I had known, Vicar L didn't look like she was in agony while trying to teach a class of awkward middle-schoolers. Still, I guarded my heart. To be betrayed again would be something that I would not be able to heal from.

The more I learned about Vicar L, the more I warmed up to her. She was also a military chaplain's kid, so she understood that aspect of my life really well. Although she was in training to become a clergy member, she didn't pretend to be righteous. Instead, she admitted that she was human, but told us ways that she saw God working in her life. She shared God's love with us through songs, games, and deep conversations, rather than monotonous lectures and book-work.

By now, I could tell that she was different. She would not hurt or manipulate me, at least not on purpose. I wanted and needed someone beyond my family to put my trust in. Putting my trust in someone "safe" was a skill that I wanted to regain, and I felt like it would be the first step to learning how to live normally again.

I typed an email to her, too afraid to talk to her in person, sharing some of my painful experiences. By the time I was done, I was so scared that I was once again physically shaking and hyperventilating. I was sure she was going to think that I was crazy. Any normal human being would. "Why the heck are you telling her this?" I asked myself. What if she hated me, or told everyone how vulnerable I was, or, or, or… crazy scenarios ran through my head. I honestly didn't know why I was telling her, but something inside myself told me that this was something I had to do.

I yin-yanged back and forth between wanting to send the email, and glaring at that little 'send' button, feeling that it was going to wreck my life. I sent an IM to my friend, telling her about my plan, and she cheered me on. Finally, I couldn't take the stress anymore. I got angry at myself and thought, "You are the biggest chicken I have ever met," and hit the send button.

The next afternoon, I saw an email from Vicar L sitting in my inbox. It seemed to be glaring at me, haunting me, daring me to open it. This was it, the deciding moment. I was afraid of rejection, judgment, or being crushed. At the same time, I couldn't help hoping for positive, encouraging words. When I finally opened it, heart pounding, what I read almost made me fall out of my chair.

"…I went through some similar experiences in middle school, some that still trouble me to this day. Past events are hard to get over, and people can be so cruel…"

I was shocked. She had gone through some of the same things I had, and she understood. She didn't blow me off as so many people did, saying, "It couldn't have been that bad." She didn't tell me what to do, saying as so many people do, "You need to think of some strategies to get over this." Instead, she simply said that she understood, and told that that it would take time to heal. That was exactly what I needed to hear. Tears welled up in my eyes as the words, "She understands! She understands. She understands!" echoed through my head. "Oh, God, how did you fit this all together so perfectly?" I prayed.

Since then, Vicar L has continued to be a huge inspiration in my life. She, too, was hurt, but that doesn't stop her from trying to live her life to the fullest. She is a living example for me of how God can use the hard things in life to give strength and hope to others. By trusting in my instincts and going against all sensible action, I gained a supporter who I know truly cares about me.

The next Sunday was confirmation Sunday, when some of the youth, including me, would be confirmed into our Lutheran faith. That day, I had absolutely no doubt in my mind of the existence of God. Vicar L had made bracelets for all of the girls by hand. Mine had two charms on it – a cross, and a turtle shell, just like the one that I was trying to rid myself of. For once, I couldn't hide my smile. The joy was just too strong.

Whenever I wear that bracelet now, it reminds me of two things. The first is the incredible, unfailing love and support of family, friends, and God that surrounds me. The second is that I do have the courage to come out my shell. The road to recovery for me will be curvy and bumpy, but I will always have the strength to keep going.

What Vicar L said is true – past events are hard to get over… but maybe, someday, the ones that still trouble me can also be turned into hope for someone else.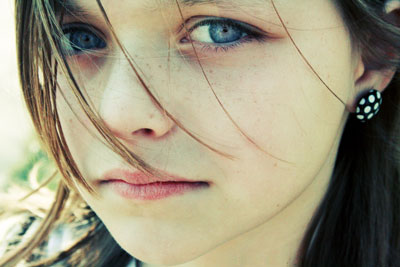 © Felicia R., Arlington Heights, IL