What Happens After School
January 19, 2019
On November 20, 2017, something unexpected happened to me. It was fourth period and I was in my Spanish class doing work like everyone else. The TA called my name and at first I did not hear her, until she called again. I was worried that maybe she called my name to tell me that the office wants me because my grandma who was battling in cancer might be already dead and that might be the reason why they want me there. However, one of my classmates asked me,
"Do you know where the Dean's office is?"
"No," I replied with a confusion why the dean wants me. I've never been in trouble before.
"Can, I come with her, I also need to get ice for my hands" she said to my teacher.
"No, she can go by herself."
"She doesn't know where it is."
"Okay."
She walked me to the office and I felt scared and I held her hand on our way there. When we got there, the dean confirmed that it was me, so I gave my classmate a quick hug as she left. I sat down and he told me about the reason why I was there. It turned out that my old friend from middle school told the dean about how I kept bugging him and now he was scared of me and wanted me to stop. I was offended and I felt betrayed that he would do this to me, when we actually had some sort of like a friendship in middle school. However, I was not surprised, I mean I was the only one who tried hard to bring back what we had in middle school. The dean told me that I should be suspended for what I had done, but once he said that, I begged him not to suspend me. He ended up giving me a contract for me to sign as a way to say that I would change my bad habit and leave my old friend alone. He became a way for me to be aware of my actions towards others, made me realized that people come into your life for a reason and helped me learn that if they are meant to stay in your life they will stay.
I've always wanted to meet someone like Manny. It all started when I was thirteen I saw an instagram post of this boy who was also thirteen at that time. I thought he was cute, he had a curly black hair and he looked Hispanic. I told myself that I would like to meet someone like him. Until when I was in eighth grade, there was this boy who I thought was kind of like him. He also had a black curly hair but longer, he had light brown eyes and he looked like a sixth grader. I always saw him playing around with his friends after school where I waited for my dad to pick me up by the gym and I also saw him on fire drills. He also sometimes gave my friend who I hangout with after school leftover snacks that he did not finish. One day, while I was talking to my friend, this kid was kicking a ball with his friend right in front of us. I remember being afraid that the ball might hit me, until a teacher came and told them to stop playing, so his friend left and that's when he came up to me and my friend.
"Are you guys Chinese?"
"No," I said.
"Oh, I know, Korean."
"No."
"What was that language you were speaking?"
"It's Filipino."
"Filipino!"
"Are you a sixth grader?" I asked.
"Yeah."
His name is Manny. Since that day, Manny started hanging out with me and my friend. We talked about interesting things, some of them were school related, we shared snacks and he would always tap me and my friend. When I got to know him more, I began to have romantic feelings for him. I was always excited after school, because I know that I will be spending time with him and my friend. One day, while I was walking back to the lunch table from the bathroom, I passed by him.
"Hi," he said.
"Hi!"
I was about to ask him where he was, after school the day before until.
"It's my birthday!" he said.
"Oh, happy birthday," I said and I gave him a hug from behind when he turned around and I realized that my hands were wet and I ended up using his shirt to dry it so I apologized.
"Are you going to hangout with us after school today?"
He stopped and thought for a second, and said,"Yes"
"Okay I'll see you, bye."
We hangout after school that day with my other friend, my friend told me that it was his birthday and I told her that I knew.
"Manny, come sit with me!" my friend said and started grabbing him on the arm, so I grabbed him too, I ended up moving, and he ended up sitting between us. My friend started hugging him and I also did the same. While I was hugging him, I started to smell something good, I realized it was his curly hair. So I started sniffing his hair while I was hugging him and when I told him that his hair smelled really good, my friend asked him if she could also smell it, he agreed and she began smelling his hair too. Me and my friend ended up hugging him, talking to him and sniffing his hair on his birthday. On the night of May 4th I had a dream that I took a picture with him, which I wanted to do. So the following day, before I left home to go to school, I prayed that we would have that picture, just like in my dream. So after school, I told him to take a picture with me, at first he said no, he smiled and walked away, but he came back and my friend took our picture. I remember him waving at the camera, but I told him not to do that, so I stopped him. When I got home I was so happy that my dream came true and my prayer was answered. Days went by and it was finally the last day of school. I said a quick prayer before I left home in the morning to have another picture with him, just like we did before. That day at school, after I gave all my friends and teachers a hug and asked them to sign my yearbook, I hurried myself to go where we hangout after school, then I saw him with his friends
" Manny, can you sign my yearbook," I said.
"No."
"Why?" I asked, but he began to take his Sharpie and take my yearbook from me.
"And can we have another picture?"
"No."
"Can we take one or else I'm going to cry."
"But, why?"
"Because I'm going to high school."
"Let me do this first" he said and he began to write on my yearbook, smiling.
When he finished, I took my phone out and asked someone to take our picture and I also took some with my other friends. I said bye to my other friends and left. When I was in high school, I was a little sad because a lot of things were new to me and I missed him. Then one day, on a Thursday my friend asked me if I wanted to visit our middle school to see some of our friends there, since we get out early and I agreed. We visited middle school three times and everytime we did I always gave my sixth grader friend, who was at that time in seventh grade and then eighth grade, a hug. The second time that I visited middle school was very memorable, because that was the first time that he gave me a hug. By the time he was a freshman and I was a junior, things had changed. I lost control of myself, I hugged him multiple times and tried to pursue him to restore back what we had in middle school. He did not like it, everytime I chased after him he told me to stop, but I refused to give up.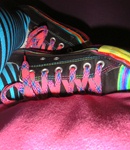 © Melanie R., Milpitas, CA