To My Happy Place
January 15, 2019
Finding that place in the world where you feel like you belong and feel content can be challenging. Naples, Florida… you are that place for me. You give life and happiness to anyone from any place or any background; that's what I love about you. Naples, also known as my second home, often feels like a dream where I have found myself living a much happier life. From The Inn on Fifth Avenue to my surfboard I get to take out around six times a year, I love you all the same.
I simply cannot resist the ocean. The element of water always greets me with a strong blue tone. The sound of the waves crashing into one another dominates the sounds of the cars radiating from the city. My escape. The water consumes me as I paddle out far out into the distance. I watch the land I once thought to be bigger than life turn into small pieces I could crush with my fingers. My board is connected to me by a single black strap tied tightly around my ankle. I always tie it too tight from the fear of losing my board my dad bought me when I was twelve. My pink and black wetsuit sticks tightly to my skin-- the feeling of it sticking to my body fades after becoming so concentrated on the world around me. Riding on the brisk September waves, watching the land in front of me move farther away gives me a feeling of freedom and control. Being here gives me confidence in finding my place in the world. As I find the perfect place to get started, I sit up on my board with the ocean water tumbling into my back on repeat. It reads Rip Curl in bold letters at me. Memories of buying my prized possession fill my mind and a slight smile takes up a small portion of my face. The completely white board still shines from my father and I's constant upkeep of washing and cleaning, but now it is just solely up to me to continue the trend. He is gone now.
My feet sit under the water as I adjust my weight to center myself. When I was a little girl, my dad would take me out into this very ocean and teach me all of his tricks. He glided effortlessly on top of the waves. I bet he could have surfed with his eyes closed. He was one of those people who was naturally good at everything and didn't even have to try. I missed him so much. The smell of salt water reminded me of him. As I continued to sit on my board in a peaceful manner, I thought about all of the memories I had made here, and my smile had grown even bigger. This was my happy place. Even though my dad was not here to enjoy my happy place with me, I was okay with it because it brought back some of the best memories I had with him. The sound of the next wave came roaring in, it was time to do what I loved and reminded me most of him. I started paddling towards the land and pushed myself up onto my feet with all the strength my arms contained. As my feet began to grip the board, I could feel my myself concentrate on what I loved best. My mindset changed into a place where I felt alive and welcomed. I was living for passion and happiness. I felt like I belonged. All my life everyone has always said that it will be a challenge to find where you belong, a challenge to find a place where you are happy, and if you're lucky you'll find a place that gives you both. And I'd like to think that I lucked out.
After losing my dad, I didn't enjoy the things we used to do together as much. It wasn't the same. Why should I be able to enjoy something we would do together if he's not here? I also know that he would be so mad if I held myself back because of his death. He's always wanted the best for me. He followed me wherever I went and always offered full support of my choices. The wind in my damp blonde hair moved around me as I descended in towards the land. The water avoided my eyes so I could take in everything as a whole. As I got closer to the land, I eventually fell into the warm water as my ride ended. I wasn't mad that it was over, I wasn't mad that the feeling of being close to my dad again went away, like he was there with me for a split second and wasn't actually gone forever. Instead, I was satisfied. I was satisfied because I had the feeling that I belonged here. My dad sent me a message. He knew this place made me content. That day I saw him. He wasn't there physically, but I could imagine what he would say to me and how he was proud of me that I had found where I belonged, and that I received his message. I grabbed my board out of the salty water and clutched it under my arm tightly. I walked out of the water with one of the biggest smiles on my face with water following in back of me as I kicked it up from behind myself, and the first thing I did was I told my mom that I saw my dad.
"Mom, I saw dad out there. He wanted to tell me a message." I said eagerly.
My mother confusedly responded with, "And what was that honey?"
I had told her that he knew that this was my happy place too. And he knew I belonged here. That was his final message to me. Finding that place in the world where you feel like you belong and can be content can be challenging. My father shared that message with me. His final wish for me. With the loss of a parent, you have to figure out a lot of things own your own. Being unsure of where I belonged, but knowing where I was happiest and felt the closest to my dad helped me to find my place in the world. I am forever grateful for the time I got to spend with him, I cherish those fourteen amazing years that I got with you so much that sometimes it doesn't feel real. Death is permanent. Never take anything for granted and always look for something that brings you an endless amount of joy and a peaceful mindset. Without my dad I would not be where I am today. Thank you Naples, you are my future and thanks Dad for helping me find and secure my plans for my future. To my happy place.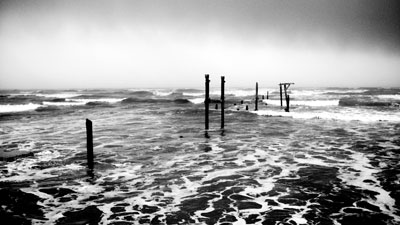 © Harrison L., Ruston, LA