The View from the Slow Lane
MAG
January 14, 2019
As we pulled into the driveway, I noticed that something seemed different about my mom. She was facing away from me and, rather than having white knuckles and clenched fists (like she usually does when I drive), her shoulders were slouched and her hands relaxed. I parked the car and she turned toward me.
"Okay, we're home," I said, implying that now was her time to get out and let me be on my own. She sniffled and brushed her hair behind her ears to reveal her bloodshot eyes and moist cheeks. She had been crying.
"Mom!" I whined, surprised by the tears running down her face. "Why are you crying?" I asked, even though I already knew the answer.
I had just gotten my license because I had finally turned 16. I was free – able to drive myself where I needed to go, finally able to blast my own music through my speakers, drive too fast on the back roads, and ride with the windows down with my best friend riding shotgun.
I'd been looking forward to this for months. But now that I had my license in my pocket, I suddenly felt guilty. I had been so quick to grow up, get out of my house, and be independent of my parents that I completely disregarded the surreal emotions that my mom must be experiencing with her firstborn nearing adulthood.
"My baby boy is growing up too fast," she managed to say between deep breaths. She wiped her eyes once more and did the delicate touch below them, the touch girls do in order to spare their mascara.
My heart ached. I hated to see my mom cry, and I hated more that I had been so ignorant toward her feelings. I had been counting down the days, impatiently waiting to enter the next stage of my life, while she counted down with dread and heartache. The elation and freedom I had previously felt were gone, replaced by an odd sense of mourning.
We hugged. A nice, long hug that was rare in my family. She looked me in the eyes and told me to drive carefully. "Of course I will," I reassured her. She unbuckled her seatbelt, opened the door, and stepped out. I delicately put the car in reverse, waved good-bye, and pulled out of the driveway.
On my way to meet my friends, I drove slowly through the back roads, refusing to rush the experience. I reached toward the dash and turned the music down a few notches.
It doesn't really need to be that loud.
Rather than the fast-paced ride I had been so looking forward to, I went the speed limit and took my time not just for my mom, but for me.
The speed limit is 45 on this road? I would've never known.
I had been so excited to start speeding and skirting around corners that I'd forgotten just how beautiful the ride is. I couldn't wait to play my music so loud that it hurt my ears and drowned out reality, but it's low enough now to hear the soothing hum of the rubber tires against the asphalt and the short pause in the engine as the transmission shifts from gear to gear. I sigh.
I'll be safe, mom. I'm not driving in the fast lane anymore.
I cruise down the peaceful two-lane road, enjoying the sights, sounds, and smells of the nature that surrounds me. At that moment I made a promise to myself, a promise to take things slow and to never, ever, catch myself speeding again.
Life had passed me by while I lived my days in fast forward, ignorantly wishing for tomorrow and failing to notice all the beautiful things along the way. Friendships, victories, heartbreaks – have sped by me because I was too busy looking toward the future. It seems life also has its own speed limit, and if you find yourself going too fast, you risk missing the moments that make it so special.
Moments such as this.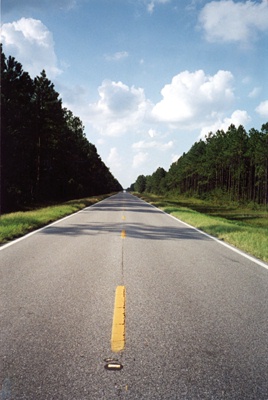 © Amanda M., Coventry, RI