Kaiser
November 8, 2018
We took many pictures that day.
One with just Mama and him, one of the whole family with him, one of us and Megan, our next-door neighbor and dog sitter.
He sat so quietly, I knew that he understood it was his last morning here with us. And I also knew he was ready.
Ready to escape his tired, aching, wasting old body, riddled with lumps of cancer. Ready to join all the other souls of beloved pets, to walk the staircase to heaven. Ready to leave us all behind.
It had been a long, good 13 years for him.
Finally, we could put it off no longer. He couldn't jump into the car anymore, so we coaxed him into a basket and lifted him up. Mama and I sat with him in the backseat, both of us crying, Mama taking pictures while she still could.
He whined quietly in pain the whole way there.
Once at the vet, no one said a word. Papa lifted him out of the car and carried him in, setting him down on a seat to wait. There we sat with him, petting him and just being there. I tried to memorize everything about him: his fluffy sandy fur, his furry tail, his dark soulful eyes that expressed all his emotions. He had been the best dog ever, and I did not want to forget him.
A nurse came up to us and told us the vet was ready. We picked up the basket with him in it for the last time and took him into the small room where he had already been so many times in the past month. He stayed in the basket while we crowded around him, saying our goodbyes and giving him all our love.
The nurse returned with a syringe.
Two helpers held him for her while she put it in. I turned away; I couldn't watch. His sharp yelp brought a sob to my lips.
The others left to give us privacy to say our goodbyes. As his head drooped and his eyes slowly closed, all I could say was "good dog… good dog." Over and over. I wanted him to know how much of a good dog he had been. He'd been there my entire life, all of it, and he had always been there. I had taken him for granted for so long, as just the family dog, when he had been so much more.
"I love you," I choked out. I wasn't sure if he could even hear me anymore.
We stayed with him for a while, just watching his chest rise and fall as he slept deeply. I stroked every part of him I could. I would miss his furriness.
"Good dog..." I whispered.
We didn't stay for the last injection.
Possibly the worst part was leaving him there, all alone. It felt so wrong to walk away and leave him at the mercy of the only people he had probably ever disliked. And of course, with what would come next, I didn't want to leave his side. As my dad put his arm around my shoulder and I felt him steering me gently towards the door, I gave him one last kiss.
"I'm sorry! I love you!" I cried, then gave in, looking back as long as I could.
It was silent in the car. A part of me really couldn't believe he was dead. It was like we had just left him at the vet forever. But the other, sensible part convinced me that it was true. He was gone. He was gone.
I'm sorry, Kaiser. I love you. I miss you.
Good dog.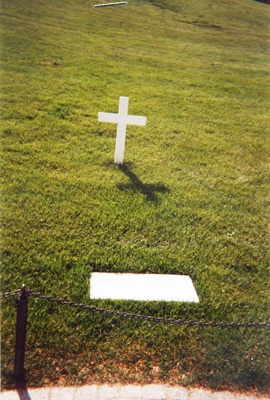 © Whitney T., Glenpool, OK