Lois W., Nurse
MAG
Lois W. was born in Salt Lake City, Utah in1946. She works as a nurse with a home health agency. Shehas a loving husband, three children and a house full ofanimals.

Did you always want to become anurse?

For as long as I can remember. My mother was anurse and I can remember her going around the neighborhoodgiving out antibiotics and allergy shots. I can't remember atime when I didn't want to become a nurse or didn't lookforward to going to nursing school.

Whatinfluenced this decision to become a nurse?

I wantedto help people. Being a nurse is taking care of people,helping and working with them during good times and bad,whether they are old or young. My great-grandfather was in thehospital with gangrene and had an amputation. The nursestaking care of him were loving and helpful. Because they wereso good to him, I wanted to help people the same way.

What was the hardest thing you experienced innursing school?

The very first time we gave baths topatients my teacher said, "You never have to bathe aman's private parts. There will always be a male around to dothis." The first time I gave a bath, it happened to be amale. I was working as a student on the floor and my motherwas the head nurse. I went to the teacher and said "Okay,I'm ready to have someone else finish the bath because we'redown to that part." The teacher went to my mother, andshe, not knowing it was my patient said, "Well, if thestudent can't finish this bath, I'll do it myself." Iknew my mother wouldn't tolerate having me not finish, so Ijust took a deep breath, went in and finished the bath, nomatter how embarrassed I was. That was kind ofdifficult.

Another hard part was being in PublicHealth. We drove up to a place called Freeport which, at thattime, was an old World War II barracks. There were a lot ofpoor Indian families living there. They were poor in some waysbut not in others. They received an allotment every year andhad brand-new trucks and televisions but lived in very poorhousing. Freeport was going to be torn down within a year andI was told to get these people to move. I didn't understandwhy it was my job. I guess it was one of my rebellious times.If the government couldn't get them to move, and their regularnurse couldn't get them to move, how should I, a student, beable to? I had a hard time with Public Health. I like to seewhat is going on in a place instead of walking in and saying,'These are my ideas; you listen and do it.' I like to seewhat's happening and what I can contribute first. My teacherdidn't think that was a good idea. She thought I should gotell people what to do and not evaluate the situation. Thoseare the only times I remember school beingdifficult.

What was your favorite part ofnursing school?

I had two. Pediatrics: I love kids andenjoy being with children, so I had a great time at schoolwith the kids. Another thing I enjoyed was being with the veryold people and caring for them. I also enjoyed thefriendships. We had the same group of students in our clinicalgroup through three years and so we became quite goodfriends. It was a lot of fun.

What has beenthe hardest decision in your nursingcareer?

I've had to make anawful lot of hard decisions. I guess one of the most difficultwas when I was fairly young. Nursing was different back then;there was no such thing as a newborn intensive care unit. Wehad a preemie nursery and I was the charge nurse. We had a setof twins on respirators. Both were doing very poorly and goingdownhill. It was just a matter of time. And then a baby wasborn upstairs. Back then they didn't have many respirators, sowe had no options. The new baby was in trouble and needed tobe on a respirator. Technically it would have been aresident's duty to decide which baby came off the respiratorand which baby went on, but it was her first day and shedidn't have a clue what was going on or how to make thedecision. So the resident looked at me and said, "What doI do?" That was one of the hardest decisions I evermade.

What's the best thing you would say youdid in your nursing career?

I guess the best thing Idid was give a lot of care and loving to children. For aboutsix years I worked in pediatric oncology. Most of our patientswere cancer patients but it was before we had a burn unit, sothe children who were burned came to us.

I had a15-year-old who had - this is really hard to talk about - leukemia when it was not well-controlled and we had what werecalled "bleed outs." This 15-year-old was extremelyfrightened of dying; her grandmother had died of leukemia theyear before and she had sat with her grandmother and watchedher and was terrified. Working with her and helping herthrough was very difficult. Loving and supporting her andgiving her the physical care she needed was probably the bestthing I ever did.

Another was taking care of athree-year-old who'd been abused. Her mother didn't like theway she behaved or that she had soiled her pants when sheshould have been potty-trained, so she put her in scaldingwater so she would remember not to mess her pants. No one cameto see this little girl. She loved to hear stories and nurseryrhymes. I would make sure, whether during or after work, tospend some time with her so she knew somebody loved her.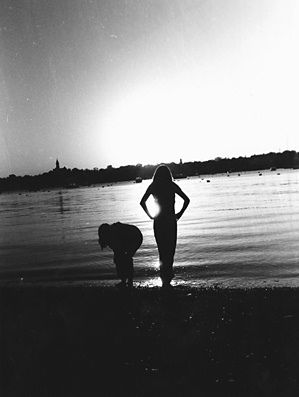 © Anonymous