One Moment
April 5, 2010
A Moment
"It's indescribable when you see someone who sweeps you off your feet." –James Hulett
I punched the gas pedal of my boss's rusted pickup truck with my battered work boot, itching to go with my driver's license searing in my dirty pockets. In 1958 money didn't come easy and work wasn't cheap but I was proud to hold a steady job down, providing for myself off a modest salary and hard labor. Continually sweeping down the street, I reluctantly hit the brakes only when absolutely necessary, hating to delay the task at hand. With my head wrapped around thoughts of work I glanced down the avenue for a diminutive second, just a mere look, a small peek, and it changed my life entirely.
There she glided across the sidewalk with her head held high and I couldn't help but fall in love. The way she floated over the street seemed otherworldly, like a graceful deer loping through an abandoned forest or an angel descending from a perfect Heaven. Something in her eyes told me I could, and would love her; never mind what I did or didn't know. For a single moment, everything slowed down like a clock years behind, I was suddenly aware of the thick summer air heavy in my lungs and the insignificant bustle of town surrounding me. I could see her so close through the thin windshield but retreating farther away with every dainty step and the slight perfume of tobacco smoke radiating from the trucks' upholstery filled my nose. I knew the desire, the need, to meet her was unjustified, irrational, and baseless but yet I deliberately and swiftly pulled over the truck, afraid I would miss my chance if I didn't take it. At that moment I became a willing prisoner to my compulsion.
I could feel every pebble and crack in the sidewalk beneath my thick boots as I walked towards her, I could sense the adrenaline being pumped into my system like a dire drug, and I could heed every heartbeat that shuttered through my core like a tambourine shaking violently. It felt to take eternity to reach her and less than a seconds' time simultaneously, my senses working overtime and churning within me. My feet were lead as I stepped up to the sidewalk and my stomach was even below them, sinking nervously with every step. But I knew even then that I was about to meet a woman whose spirit I would carry with me for a long time, someone who would affect my life indefinitely. Looking down, I tried not to be too self-conscious of my filthy, abused work jeans and oil-spattered boots, but something told me she wouldn't care if I worked in a body shop, learning the trade of cars for a dollar and a quarter every long, monotonous hour.
I took a collective deep breath, steadying myself for what I knew would be a life changing event. I mustered what courage I could and cleared my dry throat, trying to gather her precious attention. She slowly turned on the spot towards me and my heart all but stopped as her eyes settled in my direction.
"Hello," I stuttered. And I knew my universe was changing, but I also knew I would never go back.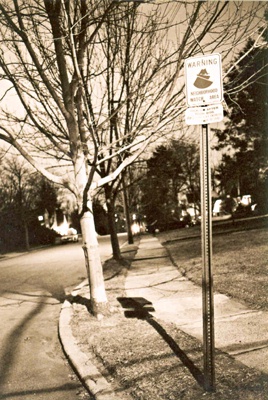 © Samantha G., W. Orange, NJ