Thank You Veteran
March 12, 2018
Dear Vietnam Veteran,
First of all I wanted to say welcome home! My name is Karissa and I am a senior. In class we watched the Honor Flight movie and it inspired me to find out more about the Vietnam war and the soldiers. I talked to my grandparents, and both of my grandpas had fought in the Vietnam War. I know that it is hard for them to remember their time fighting in the war. They are a constant reminder to be more grateful to people like you who have risked their lives to fight for others freedom!
What you and other veterans have done for this country is truly amazing. You put in endless time and effort, which is appreciated greatly. I had a basketball coach from fifth grade to seventh grade who had fought in the Operation Iraqi Freedom War and was a Company Commander. He once took me to the gravesites of five of the men who had fought and died for others. This was one of the most amazing experiences to see. This experience had shown me that I need to be more grateful to soldiers who had fought and risked their lives for others freedom, like you, thank you!
To me, veterans are heroes because they put other people's lives before theirs. To me this is the most admirable asset of veterans. I am constantly interested in stories veterans bring back from the wars they had fought in, so I have questions for you. What was the best part of fighting in the war? Also what reason did you join the Army?
I am currently 18 years old, this is the time about when numerous people got drafted for wars. I believe that being drafted or signing up for the war is one of the bravest things anyone could do. Without the braveness you portrayed, we would not have the freedom we do today.
I want you to know I am thankful for your sacrifices! I want you to know how much I appreciate the risks that you took for others' freedom. I hope you had a great day on the Honor Flight and welcome home!

Sincerely,
Karissa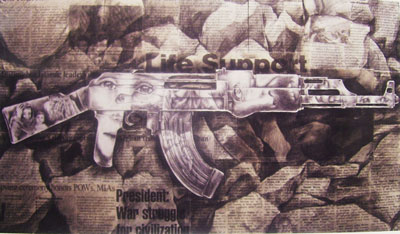 © Claire V., Lubbock, TX